Reliable Apartment Moving Company in Phoenix, AZ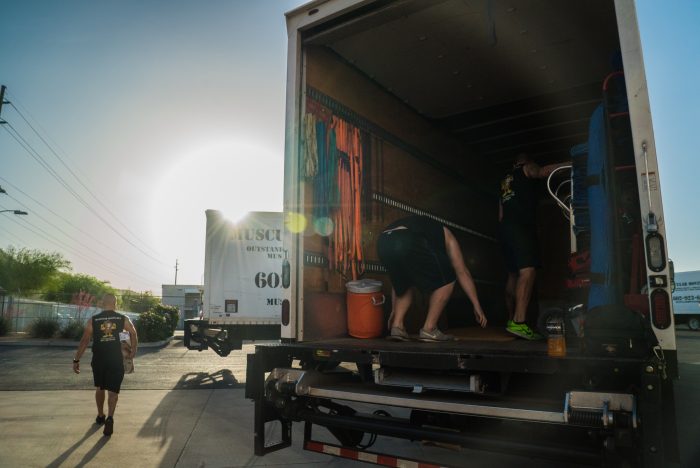 The apartment community in Phoenix is thriving. Over the past few years, young men and women have migrated to this area and are renting out apartments to be closer to both work and play. Young couples don't want to jump right into homeownership and seek out apartments instead. Or older professionals who are tired of the residential upkeep might seek a simpler lifestyle in apartment living. Whatever the motivation for apartment living, make sure the Muscular Moving Men team is who you use as your apartment movers.
Skills in Small Spaces
Our team excels in utilizing the best of a small space. When we move people to or from an apartment, we have the expertise to suggest the best locations in the space. We can easily recognize where a couch should go in a 500 square foot apartment. We can also point out concerns you may not have thought of, like making sure there are washer and dryer hookups for your machines. If there are no hookups, we can store your machines for you at our local storage facility.
Whatever the problem, we are the apartment movers with the solution. We know the ins and outs of this kind of move.
The Right Tools
We have moved clients for years, and we know the necessary tools needed to have the best move in or move out of the unit. We often recommend…
Moving boxes
Moving timelines
These supplies and tools are crucial for apartment moves because they can expedite the process and cut down on the actual moving time. Moving to or from an apartment should happen pretty quickly due to the small area and frequent neighbor foot traffic, and so these tools come in handy for the big day.
Apartment Movers Checklist
Even when you're packing up a small space, such as your apartment, the process of packing and moving can still induce a lot of stress. It's crucial to create a master checklist for yourself before moving, to ensure that the process goes smoothly and to help you stay sane and stress-free! Here are some important items to include on your apartment mover checklist:
Always be sure to use the proper packing and moving supplies.
Donate or sell items you no longer use.
Take the time to label each box clearly.
Don't wait until the last minute to pack!
Do you have questions about packing and moving your apartment? Contact the Muscular Moving Men team today!
When is the best time to move your apartment?
Though there isn't necessarily an ideal time to move your apartment, there is certainly an ideal time to find a new apartment!
According to most apartment rental experts, the best time of year to apartment hunt is November, or any time other than summer. Rental rates tend to increase substantially from July through September, and November is said to be the best month, on average, to find a new place.
When contemplating a move, take this info into consideration! You'll likely save yourself a big chunk of time and money. For more questions about the apartment moving process, contact Muscular Moving Men!
Am I protected against loss or damage while my goods are in transit?
When you partner with Muscular Moving Men for your move, rest assured that we will protect you from loss or potential damages while your items are in transit. We know how important your household goods are, and we take pride in delivering and depositing those goods in perfect condition.
The specific amount of protection you receive does depend on the moving option you choose – to hear more about our protection plans and to determine which plan might be right for you, contact the Muscular Moving Men team today! We're happy to provide you with a customized consultation and answer your questions.
Let Us Help You Move
Let the Muscular Moving Men team be your apartment movers. From our expertise to our packing tape, we're the go-to pros you need and deserve. Contact Us or Call the strongest name in moving! 602-923-6400