We Want to Give Back!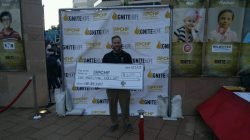 When we stopped and began to reflect on how much our customers mean to us, we at Muscular Moving Men decided we want to give back to the community that has given so much to us. Our business has flourished because of our Phoenix customers, so we're donating $5,000 to The Phoenix Children's Hospital!
Our team chooses to donate to Phoenix Children's Hospital because of what they've done for children and their families over the past 30 years in the Phoenix community. They focus on the needs of every single child with only the best pediatric specialists on staff.
With our donation, Children's can drastically expand—and even double in size—their emergency department. Their facility is currently able to receive around 22,000 patients each year, but reports estimate that they're seeing around 83,000 a year.
With this gift, the team at Phoenix Children's will be able to treat every single child that comes into the emergency department with ease and excellent care.
You Can Donate Too
But wait, you can help too! We're opening up the donations to you. You may donate any amount you'd like—from $1 to $100—to the $5,000 cause here. As a bonus, if you donate $10 or more, you'll be automatically entered into our contest to win a family 4-pack of Arizona Coyote tickets!
In short, feel free to donate along with us here at MMM. We want this year to be great for Phoenix Children's like it has been for us! Donate here at our GoFundMe page or call us to get more information. 602-923-6400