Cross Country Movers in Phoenix, AZ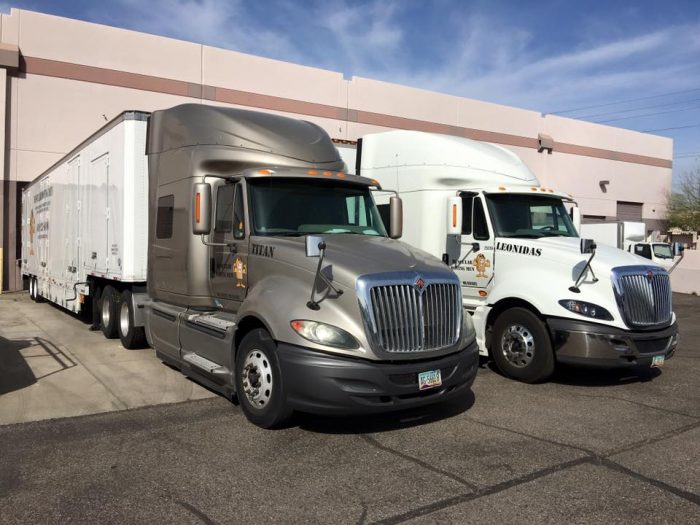 There are no two people alike, and our team at Muscular Moving Men understands everyone has their own unique needs. That is why we offer customized long distance moving services. Our cross country movers in Phoenix will take the time to find the right moving solution for your schedule, as well as your budget. Versatile, flexible, and professional; this moving company offers everything you need for a completely stress-free move.
Quality Services, Affordable Prices
With years of superior service and thousands of satisfied customers, the team of cross country movers in Phoenix has a reputation of success. Our team offers a number of options to ensure your long distance move meets your expectations and goes through without any serious issues or setbacks. In addition to providing quality services, you can have peace of mind that your belongings are in good hands. Our movers are licensed, bonded, and insured, with the proper training to ensure your long distance move is a success.
Long Distance Moving Tips
Are you planning a cross-country move? We have some tips for you!
Clear away the clutter.

Before moving, take the time to

downsize.

Get rid of things you don't need! You can donate bags of clothing to Goodwill and discard (or recycle) useless items.

Get the right packing supplies.

You should always invest in good packing supplies. You want to ensure that your belongings make it to your destination safely.

Start packing in advance.

If you can, start packing away items you rarely use at least three or four weeks in advance.
Do you have questions about your long-distance move? Contact Muscular Moving Men today at 602-923-6400.
Affordable Long-Distance Movers
Are you preparing to move across the country? Do you want to find the most affordable way to do so? First and foremost, make sure that you hire professional movers who are both reputable AND cost-effective. In addition, no matter what else you do, plan ahead of time. When you plan your move ahead of schedule, you will have time to budget accordingly. You'll also have more time to pack wisely. This can help reduce costs and (bonus!) alleviate your stress.
Do you want to find affordable long-distance movers? Contact Muscular Moving Men today! We're always happy to offer our top-quality moving services at a reasonable price.
Long -Distance Movers Cost: How to Calculate
To calculate the cost for your long-distance move, you should consider several factors. Your destination plays the biggest role in determining cost. In other words, long-distance moves will be more expensive than those of a shorter distance. In addition, any specialty items you move (such as a piano) will likely affect the overall cost. Finally, special packing supplies or other extra material will also raise the cost of your move.
Do you have questions about how to calculate the overall cost for your long-distance move? If so, don't hesitate to contact Muscular Moving Men today! We can help you determine what costs to expect for your specific move.
Packing Tips for Long Distance Moving
If you're preparing for a long-distance move, then you know how challenging the packing process can be. Here are some tips to help you make it through:
Always label your boxes.

You should, of course, label your boxes according to their contents. In addition, put your name on each box — just in case.

Do NOT pack away food or liquids.

No — you shouldn't even pack non-perishable food items! This will attract insects and other critters to your belongings. If you pack any type of liquid, you run the risk of it spilling on your other belongings.

Organize accordingly.

Never throw things haphazardly into a moving truck! Try to keep like items together.
Do you have questions about other packing tips for your long-distance move? Call Muscular Moving Men at 602-923-6400.
What We Do for You
Our team of cross country movers in Phoenix is not your average long distance moving service. In fact, we offer unique services that cater to your specific needs. Some of the services we offer include…
Our team can even help you set up in your new space, if you need assistance. This reduces the stress homeowners feel and allows them to get settled in their new location faster.
For those planning a long distance move, hiring Muscular Moving Men for their superior long distance moving services is a smart decision. You can schedule your appointment by calling Muscular Moving Men today at 602-923-6400.