Packing Services in Phoenix, AZ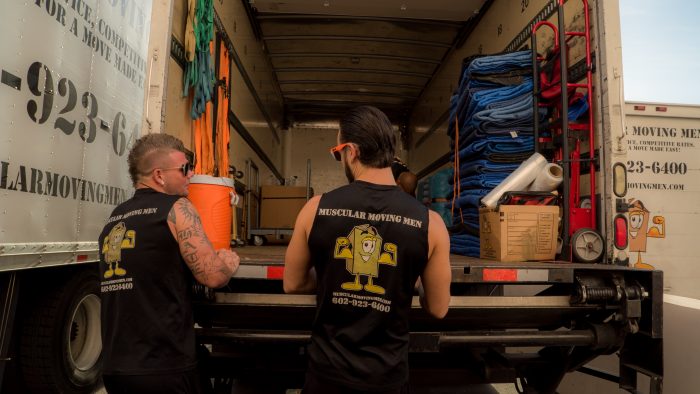 Are you ready to move, but not necessarily ready to pack? If so, our professional packing service can provide the supplies and guidance necessary to assist you in packing, or even send in a team of trained professionals to pack all you need. All of the moves we provide include the basic elements, such as truck-loading, transporting your items, and then unloading at the new location. We also offer complete packing and custom crating services in order to further cater to your specific needs.
Benefits of Using Our Phoenix Packing Service
When you call on our Muscular Moving Men team for packing services, you'll discover quite a few benefits. Some of these include…
Safety: All of your items will be packed and protected for the move, no matter how big, valuable, or fragile they may be.
Affordable: Our services are quite affordable, even for larger spaces.
Convenient: We handle it all, including custom crating for larger or more fragile items.
Lower risk: When you hire professionals for the packing process, you will be taking on much less risk than if you were to attempt everything by yourself.
Packing Services Cost
If you have used a packing service in the past, chances are good that you were gouged by the business. This experience would no doubt leave a bad taste in your mouth for the entire industry. Muscular Moving Men is here to tell you that this does not have to be the case, however. As experts in the moving industry, we're here to make your next trip a bit easier with our professional service and the strength of our backs.
With convenience does come cost. However, that does not mean the prices will be outrageous. Instead, our business determines the total cost for packing services based on the volume of your items being packed or shipped. It does take time to pack each item individually, plus the cost of necessary supplies to complete the job must be factored in. A single-bedroom apartment, for example, will cost far less than a four-bedroom house to pack and move.
Packing Tips
When it comes to packing all your household items for a big move, there are a few tips that can save you some time, money, and energy. A move is an exciting time that tends to leave most people exhausted. That does not need to be the case if you simply pack smart.
Make sure to use the right sized boxes for all your packing. Put heavier items, such as books, into smaller boxes. Light items, such as pillows and blankets, should go into larger boxes.
Heavier items should be loaded into a truck first or packed underneath lighter boxes, not the other way around.
Try not to leave any empty spaces within the boxes when possible. If you have excess space, stick in some packing paper or towels to prevent unnecessary sliding or damage.
Avoid mixing different rooms together. This will make unpacking far easier.
What packaging resources does Muscular Moving Men offer?
Muscular Moving Men currently offer an array of packaging materials and resources for your everyday needs. Everything from the tape to hold a box together to bubble wrap to ensure nothing slides about and is damaged during transit. Crates, boxes, and custom packing material is often used in specific rooms to ensure everything fits in the truck correctly without damaging or losing any of the items from your household. Professional movers have worked with these resources on a regular basis, ensuring nothing goes wrong and the entire move is easier for you.
Small boxes are perfect for heavier items, such as books or movies, while larger boxes work well for soft items, including pillows and clothing. This is because the bigger boxes will offer more room for sliding around, which won't harm soft objects. Heavier items, however, need to be packed tightly to avoid damage.
What are the advantages to utilizing professional packers?
Packing services are offered by most moving companies, like Muscular Moving Men, in order to make the life of the consumer far easier and less stressful. The advantages of hiring such professional packers certainly comes down to the training and efficiency for packing an entire apartment or family home. Packing can generally take days when you do it alone. A service cuts that time nearly in half, in many cases, and ensures the entire process runs smoothly.
Another useful benefit of hiring professional packers is the insurance you can receive during transit. Moving companies generally offer insurance on any goods packed on their truck, which means anything damaged or lost during the move can be either reimbursed or replaced at no extra cost to yourself. Should this unfortunate event happen, the company is liable for the damage if they packed the item themselves.
If I pack myself are my goods insured?
If you choose to pack your own goods without the helping of a professional moving company or packing service, purchasing insurance for your items comes down to you. You will be responsible for purchasing insurance on your items to ensure that you can receive monetary compensation or a brand new item replaced after something goes wrong during the move.
Should you decide to use a professional service, though, the insurance is far easier to acquire and is more involved with the company itself. Any move comes with some form of insurance, but you can upgrade your insurance coverage for heavier, more expensive items during the move.
It is highly recommended to use a professional packing service to handle your move. Moving and packing an entire apartment is an involved process. There is always a chance of something being damaged or lost along the way. Moving companies are then liable for any damage when moving across state lines, should you opt for their services.
Movers You Can Trust
We understand when it comes to your moving needs, you need to have peace of mind that your belongings will arrive in their new location safely. The Muscular Moving Men packing service of Phoenix offers the expertise and ability to handle any job, no matter how big or how small.
If you are ready to see what stress-free moving experience is like, call on our packing service by calling Muscular Moving Men at 602-923-6400 today.