Movers in Ahwatukee, AZ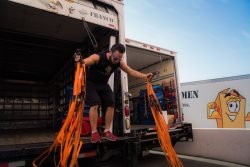 When you're in the Phoenix area, go as far south in the city as you can go, and then go a little further. This is how you get to historical Ahwatukee. This village area is the southernmost location in the urban city, and it sits right at South Mountain Park. This area is a great community to move to. When you take the leap to this southern-Phoenix locale, make sure you have the Ahwatukee movers who know and appreciate the area.
Weekend Moves in an Active, Nature-Driven City
Most residential moves tend to happen on the weekends. However, this can be majorly impacted when the city is an active one. When a city is like Ahwatukee, the moving trucks have to navigate around hikers, bikers, and outdoor sport players. We recognize here at Muscular Moving Men that this can cause…
More Traffic on the Weekends – From pedestrians to bikers, this location at the base of the mountains will have more foot and vehicle traffic. Our team is well aware of this reality.
An Environmentally-Conscious Community – This is a nature-loving community, your Ahwatukee movers should recognize this. We at Muscular Moving Men know it, so we can tell you where to recycle your used moving supplies after you've unpacked appropriately.
Movers with the Right Stuff
When you select your Ahwatukee movers, choose the ones that have the right stuff. We mean that both figuratively and literally. Make sure they have the attitude that the Ahwatukee move deserves, but also make sure they have the right moving supplies. If the big moving day comes and you've forgotten to triple wrap your fragile items, like the delicate vases you received as a kid from your grandmother, the Muscular Moving Men team has got you covered. We come prepared with moving and packing supplies, should you need it at the last minute.
Don't risk your Ahwatukee move without an expert on your side. Call Muscular Moving Men today for your next move: 602-923-6400.