Movers in Cave Creek, AZ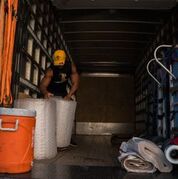 If you are moving to or from the Cave Creek community, make sure you contact the qualified team at Muscular Moving Men. Not only are we the strongest name in moving, but we have an advantage when it comes to moving in Cave Creek.
Climate in Cave Creek
The Cave Creek area, with its desert-like temperatures, can sometimes be too hot to handle. Our team makes sure that should a family need to make a move during the hot times of the year, these guidelines are in place:
Packed and Prepared – We often touch base with customers before the big moving day to ensure everything is packed and prepared. If a client needs helping, whether it be simple tips or moving supplies, we're here to get them ready.
Move Smarter, Not Harder – We make sure to move your things in a way that works for everybody involved. For example, we pack up your belongings on our trucks in a particular order, which makes for an easier unloading process. We like to work smarter, not harder.
Proper Hydration – It's crucial to stay hydrated in this Arizona heat, and as such we make sure both our crew and the family we move are properly hydrated throughout the entire process.
Take Ample Breaks – This is a necessary second to the above point about hydration. Again, we stress that this heat can ruin your moving day if you're not prepared. We make sure everyone takes ample breaks when they need them. This leads to an effective move without any hiccups.
With these practices in place, all of our Cave Creek moving jobs go as planned, if not better than planned.
The Prepared Team
We consider ourselves the qualified team when it comes to moving your items. We know what Cave Creek's heat can be like, and we insist on beating the heat during our moving jobs. Don't tackle your Cave Creek move with anyone but Muscular Moving Men. Contact Us or Call 602-923-6400