Our Junk Removal Division
Muscular Moving Men & Storage to Launch Junk Removal Division.
With more moves comes more junk!
Muscular Moving Men & Storage and its commercial moving division, M3 Commercial Moving & Logistics, will launch a new junk removal subdivision on November 2 to assist customers in getting rid of the items they don't want to bring to their next home or office. Items in good condition that can be reused will be donated to local nonprofits.
"Moving is stressful, and for our customers in the process of switching to a new house or office, the added burden of donating or throwing away unwanted items can be a task they simply don't want to deal with," said Justin Hodge, president of Muscular Moving Men & Storage. "Being able to relieve anxiety for customers and help nonprofits in need in the process is a win-win."
To lead the junk removal division, Muscular Moving Men & Storage hired Ethan Delahunty as the division's new director, who comes to the company with extensive experience in the industry. Delahunty moved from Washington D.C. to Phoenix for the position and makes a great fit with the fitness-focused company as a bodybuilding enthusiast and former college athlete.
The announcement comes after a record-breaking year for Muscular Moving Men & Storage and M3 Commercial Moving & Logistics, even during the pandemic. With out of towners moving into Arizona in record numbers, Muscular Moving Men & Storage has seen a 33% increase in business year over year in 2019. M3 Commercial Moving & Logistics has seen a remarkable 80% increase in business year over year in 2019.
Muscular Moving Men & Storage was founded in 2008 when best friends and founders Justin Hodge and Josh Jurhill began moving customers with just one trailer and their own muscles. With a focus on the core values of quality, financial efficiency, respect, advancement, culture and customer experience, Muscular Moving Men has become the top name in moving in the Valley. Hodge and Muscular Moving Men have frequently landed on Arizona State University's Sun Devil 100 list, landing No. 28 of 100 in growth of ASU alumni-owned businesses in 2020. M3 Commercial Moving & Logistics was launched in 2019 to keep up with demand for specialty commercial moving needs. To learn more, visit www.muscularmovingmen.com.
About M3 Commercial Moving & Logistics
M3 Commercial Moving & Logistics can handle all aspects of office moving. Move management, records storage, technology needs, systems furniture installation and warehousing are all part of what M3 provides. Our goal is to ensure the client's business experiences little down time and first class service. Our team of experienced specialists have experience coordinating and executing projects large and small during weekends or evening hours to maximize efficiency.
About Muscular Moving Men & Storage
Founded in Phoenix in 2008, Muscular Moving Men & Storage is a full-service moving and storage company established by Justin Hodge and Josh Jurhill on one simple philosophy: provide amazing moving service and great customer care at a competitive price. The energetic young company quickly rose to prominence thanks to its team of fit, friendly and efficient movers that work hard to treat every customer like a VIP.
---
---
Expert Phoenix Movers
We work hard to keep your items and home protected. We put down carpet protection, door protection and pad and wrap all of your furniture every time for no additional fee. Everyone involved in your move is employed and extensively trained by Muscular Moving Men. We do not hire temporary staff.

---
Long Distance Moving Across The U.S.
Relocating across country? Our professional team of estimators, drivers and movers will cover all the bases and provide the best long distance moving experience you have ever had. We have a fleet of semi trucks traveling across the country every day moving people just like you into their new homes.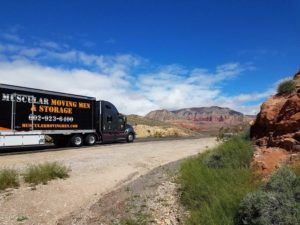 ---
M3 Commercial Moving
There are less than 5 moving companies in Arizona with the Commercial Moving Certification that is the highest in the industry. Our team is trained and capable of moving any size office space with hours restrictions smoothly with no work interference. Check out M3 Commercial.com for more information.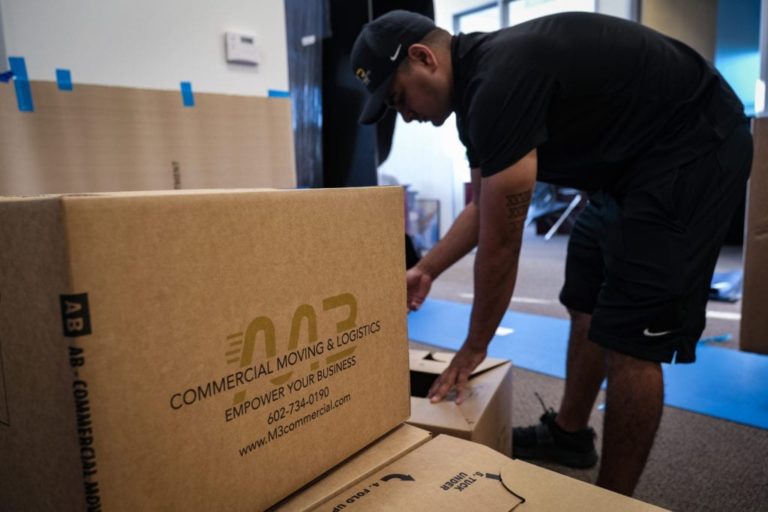 ---
Short & Long Term Storage
Need your items stored for short or long term? We offer state of the art secure storage in Phoenix, AZ while keeping your items professionally padded, wrapped and inventoried so there are no worries.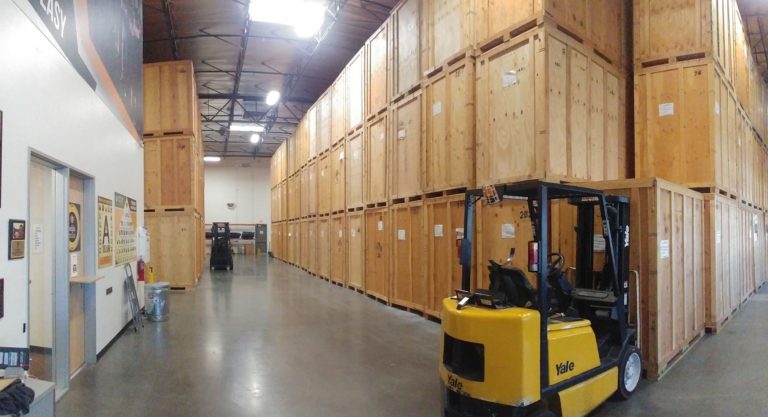 ---
Customer Experience Obsessed
Don't get stuck with a crew that runs out of steam before your stuff is unloaded. Get Muscular Moving Men to efficiently move your important items.