Tips For Driving Cross Country For A Move
If you're about to embark on a long-distance move or maybe driving cross country for your move, you'll want to take some time to plan and lay out the details of your ultimate road trip. For this article we make the assumption that you're having a professional moving company take care of all your boxes and furniture. After all, it can't be your ultimate cross country road trip if you are the one that has to rent and drive the big moving truck and the time constraints that come with this. Though obviously not as time efficient as flying to your new location, using your own vehicle for the trip can be a great deal more fun and a rewarding adventure.
Any trip, especially driving cross country, needs to be well planned. No need to add additional stress to driving cross country by just winging it.
Planning Your Cross Country Road Trip Route
First and foremost, plan the cross-country route you want to take. Depending on the season, could the weather come into play on the route you're looking at. Determine the stops you want make, the drive times involved for each day and even highways or big traffic metros that you want to avoid or use the by-pass loop of the freeway. Go ahead and secure your hotel reservations if needed and even gas stops or restaurants you want to check out.
Your Cross Country Road Trip Budget
Of course, your cross country drive won't be free so you'll need to lay out a budget. There are a number of expenses you'll incur along the way. Food, gas, hotels, etc. List these and any others that you can think of, so you'll have a good idea of how much money you'll need for your road trip.
Getting Your Vehicle Ready To Go
When was the last time your vehicle was serviced? If you'll be driving cross country, make sure you have a full service performed on your vehicle not just a quick oil change. All fluid levels, filters, tires, alignment, brakes, and battery.
Drinks And Snacks
Somewhere in the vehicle make room for a cooler that is easily accessible. Having snacks and drinks in the cooler will not only save you some time by not stopping as frequently but will also save you money. Drinks and snacks at the travel stops along the highways aren't always budget friendly. Topping off your cooler with ice is inexpensive and easy to do. Also keep a couple of trash bags handy in your vehicle so you don't end up with trash rolling around on the floor or otherwise smooshed somewhere in your vehicle. And take along a roll of paper towels to have handy as well.
Your Cross Country Road Trip Tunes
No cross-country road trip is really ready to go unless you've put together a playlist or two of your favorite driving songs. Good music makes any road trip go faster. The passengers should also prep their downloads with their favorite entertaining podcasts and movies.
Overnight Stays
As mentioned earlier as a part of your preparation you should get your hotel(s) booked in advance. There's no reason to find yourself having to drive through night trying to somewhere… anywhere to stay. Your brain and your body will thank you for doing so.
Time Your Drive Time
A cross country road trip requires some timing to your driving. Take a look at your ETA's as they pertain to big cities. If possible, try to get around the large metro areas during non-rush hour times of the day. Even if you have to push a little further before you take a break or even stop short and enjoy a bit to eat or a couple of attractions, most of us don't want to spend our time in bumper to bumper traffic trying to get around or through a big city.
Maximize Your Packing And Organization
Your vehicle is going to have limited space available in it. So, take time to maximize your packing and organization. Make that anything you may need to get at isn't buried at the bottom somewhere. For example, make sure your overnight items and toiletries are easy to get at, so you don't have to unpack half the vehicle just to get them into the hotel.
Double Check Your Documents
Make sure you have any type of documentations that you may need. Licenses, proof of insurance, registration, roadside assistance numbers, etc… just in case.
Moving is stressful enough as it is. So, if part your move is you driving cross country take the time to plan your road trip well and to use the time to enjoy your trip as much as possible. If the delivery window quoted by your moving company gives you a little extra time before you have to meet them at your new location, then take advantage of this time and stop at some places you might not have seen before. If you happen to have some friends that you swing by along the way, then do so and take advantage of these tips for driving cross country.

---
---
Expert Phoenix Movers
We work hard to keep your items and home protected. We put down carpet protection, door protection and pad and wrap all of your furniture every time for no additional fee. Everyone involved in your move is employed and extensively trained by Muscular Moving Men. We do not hire temporary staff.

---
Long Distance Moving Across The U.S.
Relocating across country? Our professional team of estimators, drivers and movers will cover all the bases and provide the best long distance moving experience you have ever had. We have a fleet of semi trucks traveling across the country every day moving people just like you into their new homes.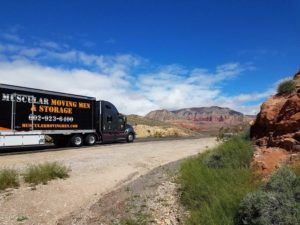 ---
M3 Commercial Moving
There are less than 5 moving companies in Arizona with the Commercial Moving Certification that is the highest in the industry. Our team is trained and capable of moving any size office space with hours restrictions smoothly with no work interference. Check out M3 Commercial.com for more information.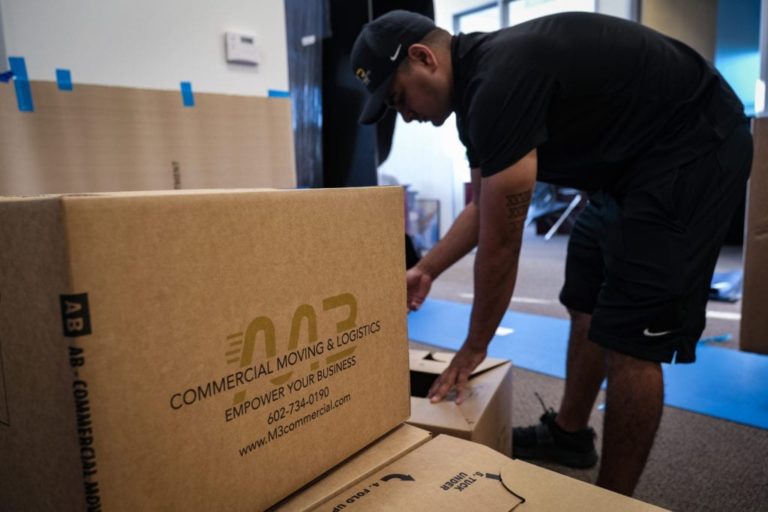 ---
Short & Long Term Storage
Need your items stored for short or long term? We offer state of the art secure storage in Phoenix, AZ while keeping your items professionally padded, wrapped and inventoried so there are no worries.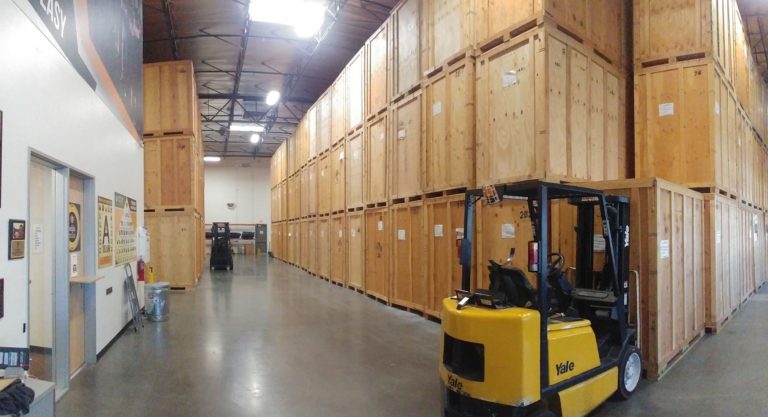 ---
Customer Experience Obsessed
Don't get stuck with a crew that runs out of steam before your stuff is unloaded. Get Muscular Moving Men to efficiently move your important items.