Ahwatukee Local Movers
When you select your Ahwatukee movers, choose the ones that have the right stuff. We mean that both figuratively and literally. Our movers are held to the highest standard in the industry through background checks, e-verification and a rigorous training process. Their customer service friendly approach and detailed oriented care will show you why MMM is the strongest name in moving.
If the big moving day comes and you still need assistance with packing… Not a problem! The Phoenix moving team at MMM are Certified Packers & Loaders and have passed the highest level of mover education through AMSA. We can even sell your packing supplies and bring them with us last minute if needed! Don't risk your Ahwatukee move without an expert on your side.

Licensed And Bonded Moving Company

Certified Move Consultants For In-Home Estimates And Service Recommendations

Professionally Trained Staff

Muscular Moving Men Mover Athletes are:

Full-Time Employees – Never Day Labor

Drug Tested

Background Checked

Smoke Free

Trained In-House

Friendly and Courteous

Latest Up-To-Date Moving Equipment

24-Hour Telephone Support

Detailed Inventories Provided For Each Move

Full-Service Packing

Crating For High Value Items

We Label The Boxes For You

Floor & Furniture Protection

Floor Runners

Adhesive Plastic To Protect Carpets And Foyers

Blanket And Plastic Stretch Wrapping Of All Furniture

Unpacking & Debris Removal

Short- & Long-Term Storage Options With Temperature & Humidity Control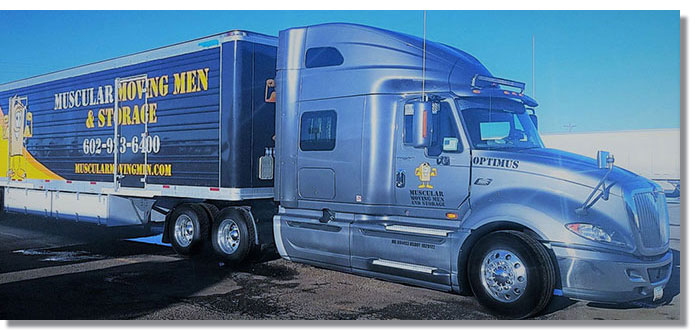 Are You Ready To Move?
Request your local or long distance moving quote today!
Call us at 602-923-6400
Our Moving Services At A Glance
Moving To Ahwatukee, Arizona
When you're in the Phoenix area, go as far south in the city as you can go, and then go a little further.
This is how you get to historical Ahwatukee. Ahwatukee is more of a district area than an actual suburb. Ahwatukee Foothills is a neighborhood in Phoenix, Arizona with a population of approximately 77,094. Ahwatukee Foothills is in Maricopa County and is considered one of the better places to live in the Phoenix metro area. Living in Ahwatukee Foothills offers residents a dense suburban feel and most residents own their homes. In Ahwatukee Foothills there are a lot of parks.
This village area is the southernmost location in the urban city, and it sits right at South Mountain Park.
The park offers over 16,000 acres that you should definitely get to know once you get settled in from your move to Ahwatukee. The park is one of the largest municipal parks in the country.
There are more than 50 miles of trails for hikers, bikers, and horseback riders and the roads throughout the park are a destination for cyclists. A popular destination within the park is Dobbins Lookout. At 2,330 feet it's the highest point in the park and provides outstanding unobstructed panoramic views of the valley.
This area is a great community to move to. When you take the leap to this southern-Phoenix locale, make sure you have the Ahwatukee movers who know and appreciate the area.
Why pick MMM for a move in Ahwatukee?
If you live on "The other side of the hill" then Muscular Moving Men is your #1 Moving & Storage Provider.
With a fleet of more than 15 moving trucks and a staff of 50, MMM can have a truck to your location almost any day of the week to handle your move. Ahwatukee's easy access to the I-10 freeway from Elliot, Warner and other roads make it very attractive for a moving company to come through.
Muscular Moving Men is a locally owned and operated company since 2008 so trust the team that was founded by 2 men that were born and raised right in Arizona!
So get in touch with the professionals at Muscular Moving Men and as your Ahwatukee movers, we'll handle all the details of your move so you can experience what a difference a stress-free move really is.
Phoenix Service Areas
---