Your Local El Mirage Movers
Muscular Moving Men are not your average El Mirage, AZ movers. In fact, we have an entirely different philosophy than most businesses in the area. We are not looking to pad our bottom line; we want to focus on offering exceptional service to you, the customer. We have a team of dedicated professionals standing by to help you with your every need during the relocation process.
Intrastate Moving for Businesses
Moving around the state of Arizona can be just as difficult as moving across the country, in some regards. When it comes to packing up your entire business, everything must come with you to continue operation when you get back on your feet in the new location. This includes office furniture, supplies, electronics, and potentially a lot of products for your business.
Military Movers
While serving in the military, sometimes moving is often required. When it comes to packing up everything you own, the El Mirage, AZ movers from Muscular Moving Men will help load everything into the truck so you can relax a little after long hours of physical training. We have nothing but the utmost respect for military personnel, so we go above and beyond to help those in need with their relocation process.

Licensed And Bonded Moving Company

Certified Move Consultants For In-Home Estimates And Service Recommendations

Professionally Trained Staff

Muscular Moving Men Mover Athletes are:

Full-Time Employees – Never Day Labor

Drug Tested

Background Checked

Smoke Free

Trained In-House

Friendly and Courteous

Latest Up-To-Date Moving Equipment

24-Hour Telephone Support

Detailed Inventories Provided For Each Move

Full-Service Packing

Crating For High Value Items

We Label The Boxes For You

Floor & Furniture Protection

Floor Runners

Adhesive Plastic To Protect Carpets And Foyers

Blanket And Plastic Stretch Wrapping Of All Furniture

Unpacking & Debris Removal

Short- & Long-Term Storage Options With Temperature & Humidity Control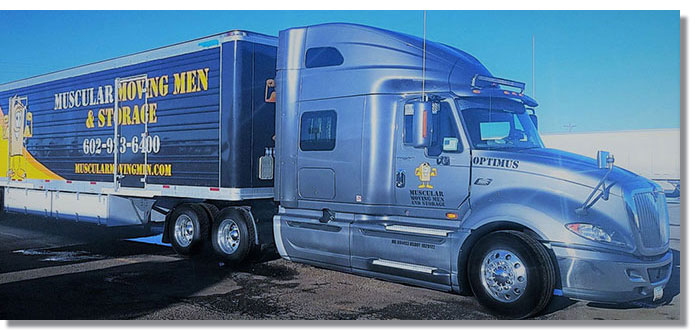 Are You Ready To Move?
Request your local or long distance moving quote today!
Call us at 602-923-6400
Our Moving Services At A Glance
About El Mirage
Located about 10 miles northwest of downtown Phoenix and sitting as the gateway to the Northwest Valley, El Mirage as rapidly grown from being a small agricultural town to a vibrant and diverse urban economy.
El Mirage is a gorgeous community, with just over 31,000 residents currently residing in its confines. Found in Maricopa County, El Mirage is the home to numerous historic structures, including the Agua Fria River Bridge, constructed in 1895, and the El Mirage Hotel, which was built in 1937. There is a lot of history in this region.
El Mirage By The Numbers
El Mirage cost of living is approximately 1.00 which is right at the national average.
Population – 34,400 up 23.2% since 2010
Unemployment Rate – 4.5%
Median Income – $47,564
Median Home Price – $205,600
Median Age – 29.9
Get in touch with the professionals at Muscular Moving Men and as your El Mirage movers, well handle all the details of your move so you can experience what a difference a stress-free move really is.
Phoenix Service Areas
---