Local Phoenix Moving
There are quite a few reasons you may have decided to move your home or office. Regardless of the reason why you are making this life change, Muscular Moving Men is the company you can trust to provide quality and dependable local moving services. When you call on our team of Phoenix local movers, you can have peace of mind that our friendly and professional Muscular Moving Men are trained and certified.
What Makes Our Services Stand Out
Our professional, uniformed, and friendly local movers will pack, load, move, unload, unpack, and even arrange your belongings with attention and care. Our team always goes above and beyond to ensure your move goes smoothly. After all, your belongings are considered a part of your life and deserve to be treated with respect.
The focus of our Phoenix local movers is on the people, communities, and businesses we serve. We offer a completely stress-free moving experience that can be fun.
Local Moving Tips
Are you preparing for an upcoming move? Follow these quick basic packing tips to get on track for the big day. You can also call Muscular Moving Men to purchase packing supplies or schedule a full service pack!
Pack as far in advance as you can: All things properly aligned you'll know about your impending move well in advance. So take advantage of this. You can start anywhere… but don't leave your kitchen for last. Go out and get a few paper plates and plastic cups to tide you over for a couple of days, but don't leave your kitchen for last even if you are just working on a local move. Kitchens by far take the longest with all the breakables and small tools and appliances that need to be properly packed. Leave the Kitchen for last and you may find yourself still up packing late on the eleventh hour of your move trying to get through those last cupboards of dishes and pots and pans. Start by packing things you're not going to miss for your local move, such as seasonal clothing or all the stuff you use in your guest room. Get a head start and avoid last minute packing. You'll be glad you did.
Have a dedicated packing work zone: If all your packing gear gets spread all around home, wasted time and frustration is going to you. Of course you packing zone can move from room to room just make sure it is well organized and stocked. Nobody want to have to constantly keep stopping and looking for the last place they set the tape down.
Now is not the time to reminisce: We've all been there. We're packing and finding those things that evoke memories. Resist all costs! Ten minutes here and 20 minutes there and then you'll be wishing you had that time back when the bewitching hour is upon you. Reminiscing is fine. Let's just leave for when we're at the other end unpacking.
Label your boxes: Make sure the top and sides of the box are marked with a brief description of contents and room where the items belong. You can even go a step further and have different label colors for different room. And by the way… don't skimp on the quality of your moving boxes. Use as many boxes that you need to create easy-to-lift-loads. A good rule of thumb is even your heaviest boxes should be no more than 50lbs. The last thing you want is to have your boxes start falling apart on you as you move them into your new place.
Only use containers that can be sealed: As tempting as it might be to use your laundry baskets and trash bags, it's not the best of ideas. First of all they create odd shapes and they don't stack well. Also, lids that come off easily and bags that rip… well, you may end up packing twice.
Don't leave empty spaces in the boxes: Be sure to fill in all gaps. When moving, even for a local move, you don't want anything rattling around in the box at all. When you shake you box you shouldn't hear or feel any movement.
Pack per weight: A good rule of thumb is the heavier the item the smaller the box (books in small boxes and linens in large boxes).
Stack your boxes- Having boxes in stacks of 3-4 in the corner of each room will ensure the moving team can come scoop the boxes easily on moving day, saving time.
When in doubt call a pro: Here at Muscular Moving Men, we're here for all your local Phoenix moving needs and will help you as much as you want.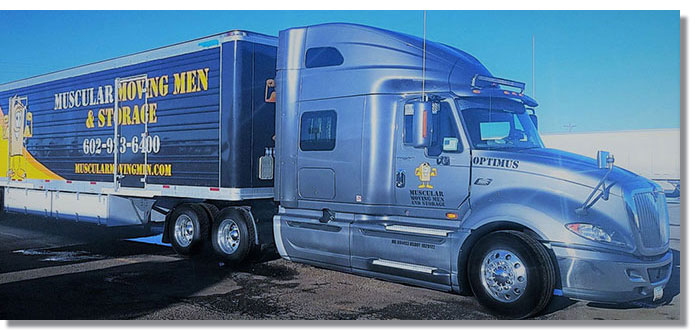 Are You Ready To Move?
Request your local or long distance moving quote today!
Call us at 602-923-6400
A Look At Factors Affecting Your Moving Cost
When it comes to determining (or getting really close to determining) the bottom line of your Phoenix moving costs, don't forget to keep in mind any or many of the following items that would affect your final cost of a local move.
The cost of the travel for the movers: Most of us take this into consideration when the move is more long distance. However, don't forget to figure in these travel costs for a local Phoenix move as well. This is particularly true if your local move involves the movers making their way across a large metro area.
How much stuff are you moving: Of course we know this affects the cost of a local move. However, it's not just about having more stuff takes longer to pack and handle, but remember, more stuff not only takes longer to handle, but it also adds to the weight of your move which adds to your cost.
Packing services: Don't want to spend your time (and lack of expertise in packing) boxing up all your stuff? Packing services are just that… a service… you'll generally have to pay for, even for your local Phoenix move.
Add-ons: Be sure to carefully itemize any add-ons that you opt-in for beyond having your stuff packed for you. Check to see if there are additional fees for dis-assembly and re-assembly of your belongings during your local move.
Storage: If your move is more complex such as the timing between selling/closing on your home and buying/closing on your new home… or renting, then you may have to figure in the cost of storage for part or most all of your belongings even if you're only considering a local move.
Packing Supplies: This is an area that can really add up that many folks really underestimate. Boxes to pack things and/or plastic container bins, tape, bubble wrap, paper, etc. can really add up to more than what you expected.
Moving Date: Timing/scheduling your local move during non-peak times for the moving company if possible, for you can oftentimes save you a very tidy sum.
Insurance Coverage: Depending upon the value of your belongings… or how much you value them; you'll want to make sure you fully understand the cost of coverages.
Saving On Your Local Move
There are several ways you can save money on your local Phoenix move. The following are some simple ways to cut back on the costs of your local move.
Thin Out: Probably the most effective way to reduce the cost of your local move is to get rid of any unnecessary items. A great place to start is your closet. Take a hard, honest look in here. If you find that you've not really used or otherwise worn particular clothing items in quite some time (usually a year – which would include all the seasons), then you should likely find a way to donate these items. After getting through the closets, it's time then to go through your residence on a room by room basis prior to your local Phoenix move with the mission of de-cluttering and seriously thinning out.
Gathering of resources: Send out the help request to friends and family. Make it a reason to get together and at the end of the day reward yourselves with some good food and good times.
Cheap or free supplies: A little bit of effort goes a long way when it comes to finding moving supplies on the cheap (or free). Check out your local businesses that deal with revolving inventory such as grocery stores, liquor stores. Also, ask around at other retail stores, offices, or even schools. Most business will gladly donate their boxes to you rather than have to break them all down themselves. Don't forget to check out the online route such as Craiglist and Facebook to score on local moving supplies that you can use.
DIY: As with just about anything (including your local Phoenix move) any tasks you can take on yourself you're going to save money. Of course, you time is worth something as well. However, if you can do it yourself… it does save overpaying someone to do it for you.
Tax Deductions: It certainly doesn't take much time or effort to check into this one. The worst case is that none of your move can be written off… but be sure to investigate this option depending upon your individual situation.
Benefits of Choosing MMM
There are quite a few benefits offered by our local moving services, which include…
No Pressure: MMM provides free onsite estimates or can easily schedule your move over the phone.
Peace of Mind: MMM is a licensed, bonded and insured company that is certified by AMSA. We have an extensive in house training program as well to to make sure your items are treated with care and respect.
White Glove Service: Padding and wrapping of furniture is part of the service along with floor and doorway.
---