Long Distance Movers
Long distance moving:
If you're moving a long distance or perhaps moving across the country, you know that it can be one of the most difficult projects to take on for you or your family. A long distance move is more than just a relocation. If things go less than smoothly, your long distance move can be something that you end up paying for, for a long time to come. Not to mention the stress it would create between you and your family.
This is why you want to make sure you have long distance moving professionals on your team that will help you take care of the details of the entire project from beginning to end.
At Muscular Moving Men we can move you anywhere in the lower 48 states. We'll move your household no matter how big or small it may be. Whether you're interested in just our basic long distance service or our most preferred full service long distance residential move, we have the experience and the resources to handle your specific move.
Our long distance cross country movers located here in Phoenix will take the time to find the right moving solution for your schedule, as well as your budget. Versatile, flexible, and professional; we'll provide everything you need for a completely stress-free long distance move.
There are no two people alike, and our team at Muscular Moving Men understands everyone has their own unique needs. That is why we offer customized long distance moving services.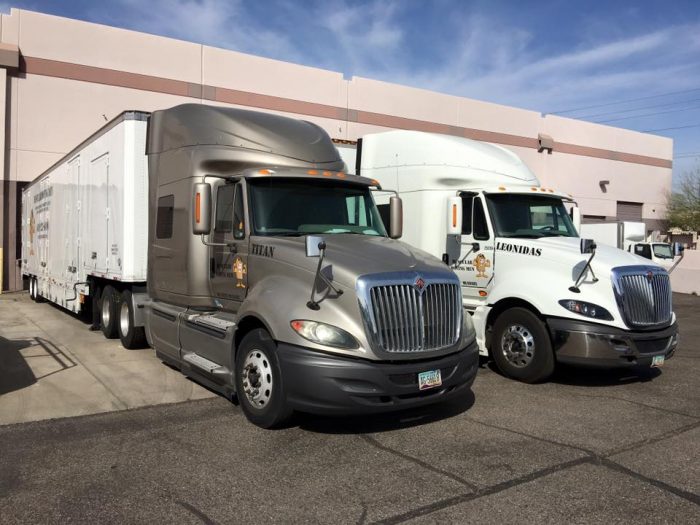 Quality Service
With years of superior service and thousands of satisfied customers, our team of long distance movers has a reputation of success. Our team offers a number of options to ensure your long distance move meets your expectations and goes through without any serious issues or setbacks. In addition to providing quality services, you can have peace of mind that your belongings are in good hands. Our movers are licensed, bonded, and insured, with the proper training to ensure your long distance move is a success.
Affordable Long-Distance Movers
Are you preparing for a long distance move across the country? Do you want to find the most affordable way to do so? First and foremost, make sure that you hire professional long distance movers who are both reputable AND cost-effective. In addition, no matter what else you do, plan ahead of time. When you plan your move ahead of schedule, you will have time to budget accordingly. You'll also have more time to pack wisely. This can help reduce costs and (bonus!) alleviate your stress.
Do you want to find affordable long-distance movers? Contact Muscular Moving Men today! We're always happy to offer our top-quality long distance moving services at a reasonable price.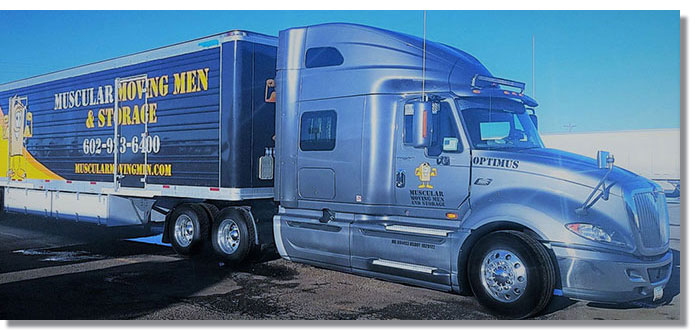 Are You Ready To Move?
Request your local or long distance moving quote today!
Call us at 602-923-6400
Long-Distance Movers Cost: How to Calculate
When determining the cost associated with your long distance move, our Certified Estimators will need to know some key factors. Be sure to think about your needs in advance and be prepared with the scope of work for your move.
Pick Up Address.
Drop off Address.
The Time Of Year You'll Be Moving.
Items Being Moved – Not just number of items you may have, but more importantly the weight. The cost of the long distance move is greatly affected by the weight of the load.
Plan your logistics. If you are driving to the new destination of your long distance move, be sure you meticulously plan your route. Calculate your fuel usage. If an overnight (or more is to be involved, get these costs nailed down. Remember, you also have to move you. So, plan and budget for everything. Don't forget to find out about personal expense beyond the move, such as local taxes, cost of fuel, utilities, insurances, etc. Maybe these aren't directly associated with the cost of your long distance move, but they are costs (or maybe some savings) either way, stay in control of your budget.
Will You Need Storage – When it comes to storage, timing is sometimes a big key to this one and it's one that you'll want to consider. The moving dates in terms of when you exit your current address and when your new address will be ready for you, may not be an exact fit. If that happens… or is the case, you'll want to be sure you figure in the cost of storage that may come into play as a part of your long distance move.
Will You Need Packing Other Moving Services – We all pretty much know that there are packing services that you can opt for. However, you'll want to determine is any of your belongings would require special or exceptional attention, or custom crating such as a pool table, piano or artwork. Not only in terms of where these items may be sitting in your current house, but where you'll want them to land in your new home.
Delivery window – if you want to have your belongings arrive on a specific date rather than a "window" of time, you'll need to check with the mover on this as rates and delivery policies can vary and even if they offer any type of guaranteed delivery. No matter what the case may be, make sure you take enough personal items with you so you can keep your sanity until the delivery day comes. Especially think about what you'll need and include some extra… a truck could breakdown.. and even though it's nobody's fault, you may end up needing extra personal items.
Will you require a shuttle – long distance moving is often accomplished with an 18 wheeler. This means that either where you're moving from or to will have to be accessible for the tractor trailer. If not, the company will have to make use of a shuttle to get your belongings from the tractor trailer either to or from your door… or even maybe both.
Insurance coverage – for long distance moves there the mover will provide a base coverage. Federal law, dictates that the basic moving valuation limits a mover's liability to only $.60 per pound. However, most people will want to have their belongings coverage beyond the base coverage… which you can opt for and just like most all other insurances the cost is greatly determined by the amount of the deductible (risk to you) that the client wants to take on themselves. Knowledge is power when making an informed decision on this. Your long distance moving company will go over the differences between the types of coverages and deductibles.
Save Money By Purging
Although much of the discussion about long distance moves centers around costs, there are ways for you to save. Remember that long distance moves are mostly determined by the "amount" and and the "weight". The more items you take, the more your load will weigh. Cutting down on the items you pack and take is one of the best ways to lower your moving cost. Basically this boils down to either donating, selling, or tossing. Also keep in mind to consider if you have old, bulky furniture or other heavier household items, it may cost you more to move them than they are actually worth. Might be a good time to save the cost of moving them and upgrade these types of items once you get to your new home.
Long-Distance Specialists
Our team of cross country movers in Phoenix, AZ is not your average long distance moving service. In fact, we offer unique services that cater to your specific needs. Some of the services we offer include:
Our team can even help you set up in your new space, if you need assistance. This reduces the stress homeowners feel and allows them to get settled in their new location faster.
Your Long Distance Moving Success
The old adage "you get what you pay for" can be very true when it comes to long distance movers. When it comes to your move, hiring a professional and trustworthy moving company will save you time, money, and probably most importantly, your stress factor.
For those planning a long distance move, hiring Muscular Moving Men for their superior long distance moving services is a smart decision. You can schedule your appointment by calling Muscular Moving Men today at 602-923-6400.

Licensed And Bonded Moving Company

Certified Move Consultants For In-Home Estimates And Service Recommendations

Professionally Trained Staff

Muscular Moving Men Mover Athletes are:

Full-Time Employees – Never Day Labor

Drug Tested

Background Checked

Smoke Free

Trained In-House

Friendly and Courteous

Latest Up-To-Date Moving Equipment

24-Hour Telephone Support

Detailed Inventories Provided For Each Move

Full-Service Packing

Crating For High Value Items

We Label The Boxes For You

Floor & Furniture Protection

Floor Runners

Adhesive Plastic To Protect Carpets And Foyers

Blanket And Plastic Stretch Wrapping Of All Furniture

Unpacking & Debris Removal

Short- & Long-Term Storage Options With Temperature & Humidity Control
---