Packing & Crating
Are you ready to move, but not necessarily ready to pack? If so, our professional packing service can provide the supplies and guidance necessary to assist you in packing. All of the moves we provide include the basic elements, such as truck-loading, transporting your items, and then unloading at the new location. We also offer complete packing and custom crating services in order to further cater to your specific needs. Whether you need a single room boxes up or a full house service, work with our experienced estimating and scheduling team to schedule.
What is Packing Service And Do I Need It?
When it comes to relocating your home, there are two services required to get from Point A to Point B… Packing and Moving. Packing entails the process of physically placing items into boxes. Packing paper, bubble wrap and other materials are used to build a cushion and the appropriate sized item is placed in the right box to ensure safety. A good rule of thumb is the heavier the items the smaller the box. When you hire Muscular Moving Men, you have the option of simply hiring a team of movers that will come equipped with a professional moving truck, padding, shrink wrapping or you can opt to have a "full service" move which will consist of a team coming out in advance and getting your items into boxes. When deciding if scheduling packing service is right for you, think about the following questions
Do I have the time to complete my own packing?
Am I going to pick up my own packing supplies?
Will I be ready on moving day?
How Much Does Packing Services Cost?
Packing services for local moves are priced based on the size of the home and the amount of supplies that will be used. Explain to your Certified Estimator the scope of work, how many rooms require packing and if you have any specific needs like crating glass, stone, artwork, etc. Once we have established a scope of work, our proprietary software and previous experience will determine the length of time to complete the process. If the scope of work changes the cost can potentially be less or more so try to be as accurate as possible when going over the details. Making a plan and sticking to it will ensure things do not change come moving day.
Packing Tips
When it comes to packing all your household items for a big move, there are a few tips that can save you some time, money, and energy. A move is an exciting time that tends to leave most people exhausted. That does not need to be the case if you simply pack smart.
Right Item Right Box- Make sure to use the right sized boxes for all your packing. Put books in small boxes and linens in large boxes.
Properly Mark Box- Clearly mark on the top and side of box a brief description of contents and room.
Packing Paper Please- You can never have enough packing paper when it comes to wrapping breakables.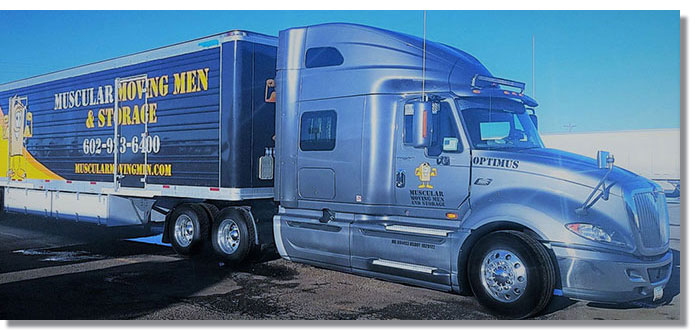 Are You Ready To Move?
Request your local or long distance moving quote today!
Call us at 602-923-6400
What Packaging Resources Does Muscular Moving Men Offer?
Muscular Moving Men currently offer an array of packaging materials and resources for your everyday needs. Everything from the tape to hold a box together to bubble wrap to ensure nothing slides about and is damaged during transit. Crates, boxes, and custom packing material is often used in specific rooms to ensure everything fits in the truck correctly without damaging or losing any of the items from your household. Professional movers have worked with these resources on a regular basis, ensuring nothing goes wrong and the entire move is easier for you.
Small boxes are perfect for heavier items, such as books or movies, while larger boxes work well for soft items, including pillows and clothing. This is because the bigger boxes will offer more room for sliding around, which won't harm soft objects. Heavier items, however, need to be packed tightly to avoid damage.
If I Pack Myself Are My Belongings Insured?
If you choose to pack your own goods without the help of a professional moving company or packing service, purchasing insurance for your items comes down to you. You will be responsible for purchasing insurance on your items to ensure that you can receive monetary compensation or a brand new item replaced after something goes wrong during the move.
Should you decide to use a professional service, though, the insurance is far easier to acquire and is more involved with the company itself. Any move comes with some form of insurance, but you can upgrade your insurance coverage for heavier, more expensive items during the move.
It is highly recommended to use a professional packing service to handle your move. Moving and packing an entire apartment is an involved process. There is always a chance of something being damaged or lost along the way. Moving companies are then liable for any damage when moving across state lines, should you opt for their services.
Movers You Can Trust
We understand when it comes to your moving needs, you need to have peace of mind that your belongings will arrive in their new location safely. The Muscular Moving Men packing service of Phoenix offers the expertise and ability to handle any job, no matter how big or how small.
If you are ready to see what stress-free moving experience is like, call on our packing service by calling Muscular Moving Men at 602-923-6400 today.
---