News
From Bubble Wrap
to Boxes: Selecting the Best Packing Materials for Your Move
.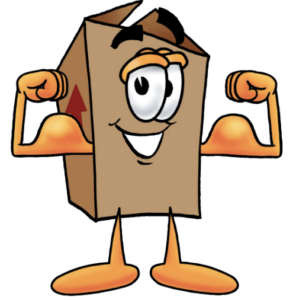 At Muscular Moving Men, we've moved a whole bunch of people and their belongings over the years. Whether you need a local Phoenix moving company or your plans include a long-distance move, we are here to help.
We know moving homes can be a big deal, but with the right packing materials, it doesn't have to feel like a mountainous task. The key to a smooth, hassle-free move is having the right supplies to keep your belongings safe and sound. Whether you're just moving a few blocks down or heading to a new city, getting to know the variety of packing materials out there is your first step to a stress-free moving day.
There's a whole world of packing materials to explore, each with its own purpose. Sturdy boxes to keep your stuff safe, bubble wrap to cushion your breakables, and tape and markers to seal the deal—the options are plentiful. This guide is here to take you through the must-have packing materials, giving you the lowdown on when and how to use them to make your move a breeze. With a little know-how, you'll be on the road to packing like a pro for your next adventure. So let's unpack (pun intended) some of the questions about what types of packing materials and when to use them.
1. What are the primary types of materials used in packaging?
When it comes to packing up for a move, there are several materials you'll become best friends with. The primary ones include moving boxes of various sizes, bubble wrap for that extra cushion, packing paper to fill in the gaps, tape to seal the deal, and markers for labeling. Don't forget about specialty items like wardrobe boxes or mattress bags for those odd-shaped or delicate items.
2. What is the best type of general packaging material?
If there's a jack-of-all-trades in the packing world, it's the classic cardboard box. They come in a variety of sizes to snugly fit your belongings, they're stackable, and easily labeled. Plus, they're recyclable which is a sweet bonus for Mother Earth.
3. Is packing paper or bubble wrap better for moving?
It's a bit like comparing apples to oranges—both have their places. Packing paper is great for wrapping up less fragile items or filling in spaces in boxes to prevent movement. Bubble wrap, on the other hand, is your go-to for cushioning your fragile items, giving them a cozy bubble blanket for the journey.
4. What is the best paper to wrap moving items?
Unprinted newsprint paper is a popular choice among movers. It's soft, lightweight, and won't leave ink stains on your belongings like regular newspaper might. It's perfect for wrapping dishes, glassware, and other items that need a little extra protection.
5. Are boxes or bags better for moving?
Boxes typically win this battle. They're sturdy, stackable, and offer more protection to your belongings. While bags can be handy for soft items like clothing or bedding, they don't provide much structure or safety for anything else.
6. What is the best packing material for fragile items?
Bubble wrap takes the crown here, with its cushiony bubbles offering a safe haven for your fragile items. Pair it with a sturdy box and some packing paper to fill any gaps, and your breakables will be riding in first class.
7. What is the best packing material for shipping?
When shipping items, a combination of bubble wrap, packing peanuts, and a well-fitted box is often the golden trio. They work together to provide cushioning, fill space, and offer a solid outer shell.
8. What items not to pack when moving?
Some things are better left unpacked. Hazardous materials, perishables, plants, and important documents are usually on the no-pack list. It's also wise to keep valuables like jewelry and personal items with you, instead of sending them off with the moving truck.
As we wrap up (another pun definitely intended), it's clear that the right packing materials are your unsung heroes when it comes to moving. They keep your cherished belongings safe, your fragile items intact, and your moving day running smoothly. From the humble cardboard box to the cushiony embrace of bubble wrap, each packing material has its part to play in the grand scheme of your move.
Now that you're acquainted with the various types of packing materials and their uses, you're well-equipped to tackle your upcoming move like a pro. So, gather your supplies, roll up your sleeves, and dive into the packing adventure with confidence. And remember, a well-packed move leads to a stress-free move and a joyful start in your new home.
Here's to a smooth and successful moving experience!