Preparing for Your Move
Thanks for scheduling your move with Muscular Moving Men. We look forward to the opportunity to serve you. Please take a moment to review the recommended to-do list before the big day. Click the link below to watch our YouTube video on what to expect on moving day. Please call our office with any questions or concerns and thanks for putting your trust in Muscular Moving Men.


Moving Day Checklist:

A MONTH BEFORE THE MOVE
Reserve a moving company for your move as soon as you know you are moving. If you need packing assistance, Muscular Moving Men can also pack up your house, apartment, or condo for you.
Visit your local Muscular Moving Men to purchase moving supplies
Start to clean out closets, the garage, and attic.
Host a garage sale or donate your unwanted things to charity.
Arrange to transfer school records.
Get change of address cards from your local post office or use Muscular Moving Men Concierge to start the process
Notify magazines, charge accounts, insurance companies, clubs, and all other organizations of your change of address.
If possible, get owner's manuals for appliances in your new home.


TWO TO THREE WEEKS BEFORE THE MOVE
Make a "survival closet" of things you will need for the final clean-up and include snacks for the last day.
If you decide to pack yourself, label all moving boxes as you pack. Write the destination room on the top and sides of each moving box to ensure it gets to the right place in your new home. If you're pressed for time, or overwhelmed with packing, contact Muscular Moving Men to let us pack for you
Schedule disconnects for utilities such as gas, electric, water and the telephone. If you have a landline, do not disconnect it until after your move. Muscular Moving Men Concierge
Cancel newspapers, Internet, cable TV, security, pest control, cleaning help, lawn maintenance, and any other services you receive.


THE WEEK OF THE MOVE
Mail in your change of address forms.
Clean the stove and finish up any last minute cleaning before move day.
Finish up packing and be sure all items are boxed and ready to go prior to the movers' arrival.


THE DAY BEFORE THE MOVE
Clean the refrigerator, then defrost and dry.
Get enough cash to tide you over. Cash comes in handy if you need to order pizza during your move, or dinner in your new place!
Say goodbye to your neighbors!


DAY OF THE MOVE
Pack your suitcase and day of the move box with all necessary essentials to get you through the next few days in case you don't get to unpacking right away.
Be sure you're present when the movers arrive so you can walk them through the home and indicate what you need moved or anything in particular they should be aware of.
Once all belongings are loaded onto the moving truck, be sure to do one more walkthrough and lock all windows and outside doors, in addition to checking all lights and your thermostat are off before heading to your new home.
---
---
Expert Phoenix Movers
We work hard to keep your items and home protected. We put down carpet protection, door protection and pad and wrap all of your furniture every time for no additional fee. Everyone involved in your move is employed and extensively trained by Muscular Moving Men. We do not hire temporary staff.

---
Long Distance Moving Across The U.S.
Relocating across country? Our professional team of estimators, drivers and movers will cover all the bases and provide the best long distance moving experience you have ever had. We have a fleet of semi trucks traveling across the country every day moving people just like you into their new homes.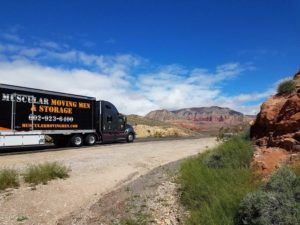 ---
M3 Commercial Moving
There are less than 5 moving companies in Arizona with the Commercial Moving Certification that is the highest in the industry. Our team is trained and capable of moving any size office space with hours restrictions smoothly with no work interference. Check out M3 Commercial.com for more information.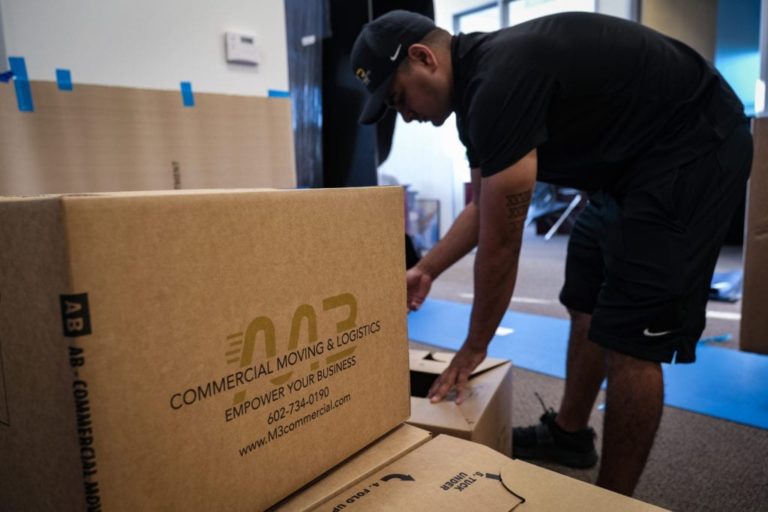 ---
Short & Long Term Storage
Need your items stored for short or long term? We offer state of the art secure storage in Phoenix, AZ while keeping your items professionally padded, wrapped and inventoried so there are no worries.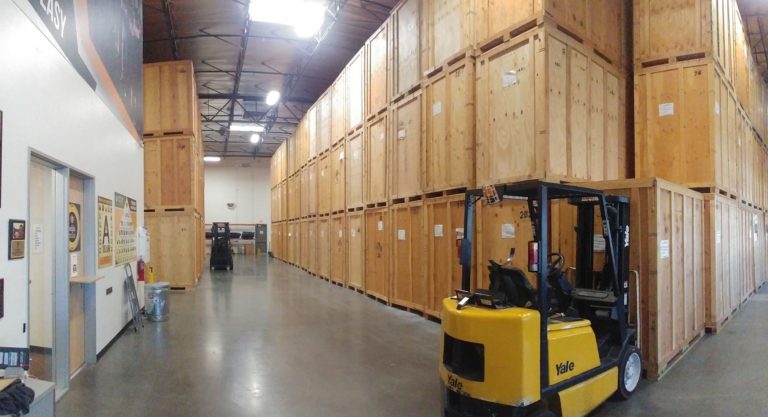 ---
Customer Experience Obsessed
Don't get stuck with a crew that runs out of steam before your stuff is unloaded. Get Muscular Moving Men to efficiently move your important items.