Our Ultimate Moving Checklist
We look forward to the opportunity to serve you. Please call our office with any questions or concerns and thanks for putting your trust in Muscular Moving Men.
Moving into your new home will go more much more smoothly if you start the planning process about two months ahead of time. From creating a moving binder, shared documents, updating and backing up your computer files, and even getting your favorite road trip music playlist ready, the goal of our moving checklist is to get the ball rolling.
Below is a pretty exhaustive list for a moving checklist. What you decide to keep for your checklist will depend on each of your total moving situations. So, take what you need that works for you and we'll bring the muscles!
Moving Checklist:
Six to Eight Weeks Before The Move
Create a "moving" file or folder on Google Drive or other online storage that you can share with other family members to store quotes, receipts, and records related to your move. Let's face it. There's no way you'll be able to keep track of all the details and quotes that you have received. Even if you could, having a living, breathing moving file that you can access from your computer, tablet, or mobile offers great piece of mind and one less thing you have to keep recycling through your mind. So, throw them in a document for easy reference.
Schedule moving estimates with reputable moving companies and read over their documents from your movers before signing anything. If you're unclear on anything, get clarification. You can give our office a call any time you have any questions at all.
Request time off work around your moving activities should be a part of your moving checklist. Don't try to piece all the parts together during your workday with emails and text messages. Focusing on the tasks without distractions will save much stress.
In a word… sort. Go through every room in your current place and be sure open every drawer; decide what to take to your new home and what to get rid of. Also, to this end, make a list of "must keep" items that will require special packing or extra insurance coverage.
Add time for friends and family on your moving checklist before you head out. Especially, if your move is long distance. It doesn't have to be elaborate just special.
Valuables moving checklist: before they go on the moving truck or in your vehicle, make sure you know exactly what box they are in and where they are, so label appropriately.
A picture is worth a thousand words. Or, in this case, a thousand pats on your back. Take photos of all electronics before unplugging them, or anything else that will need to be put back together. This will serve as your "easy setup guide" when it comes time to reconnect things such as your TV, audio components, and even the hoses on your washer.
Put any your hardware, brackets, screws, etc. in labeled baggies for easy reassembly.
If you're going to be involved in a long-distance move get your vehicle(s) serviced. The absolute last thing you'll need to deal with is car trouble.
Pack a little every day. This is why this moving checklist tip is more than a month out. No one want to have to scramble at the last minute and just end up tossing their stuff into a bunch of unrelated boxes. This only results in stress on both ends of the move as you struggle to re-find your things and get organized.
Make travel arrangements. Book hotel stops and stays if you'll be needing them either on the road or have some down time before you can get into your new place.
Reach out to your medical/dental/eye providers. Get copies of medical records or have them sent to your new physicians. Haven't found new ones yet, it would be a great time to see if your current docs have any recommendations.
Get up with your insurance agents. Find out if your move is going to change or require more (or less) insurance coverages.
A Month Before The Move
Reserve a moving company for your move as soon as you know you are moving. If you need packing assistance, Muscular Moving Men can also pack up your house, apartment, or condo for you.
Visit your local Muscular Moving Men to purchase moving supplies
Start to clean out closets, the garage, and attic.
Host a garage sale or donate your unwanted things to charity.
Arrange to transfer school records.
Get change of address cards from your local post office or use Muscular Moving Men Concierge to start the process
Notify magazines, charge accounts, insurance companies, clubs, and all other organizations of your change of address.
If possible, get owner's manuals for appliances in your new home.
Put together all of your financial and legal records and get them is one place. Be sure to include birth certificates and passports for everyone in your home. Put them in a file bin that has a top that seals/shuts tightly and keep this bin with you.
Pick up clothes from the dry cleaner. You might be surprised how many items are left forgotten at the dry cleaners.
If you're moving out of town, begin the process of locating a new doctor, dentist, and vet in your new neighborhood if you haven't already.
Update your voter registration.
Set up times to transfer your cable and internet to your new address. Don't wait until you get there or you may be waiting weeks for the first available appointment slot.
Make sure your pets have ID tags for their collars.
Request copies of vet records and get any necessary pet medication.
Make a moving day playlist to enjoy while moving and unpacking!
Two To Three Weeks Before The Move Checklist
Moving day is almost upon you and there are yet more items you may want to have on your moving checklist. At this time, it's good to update your accounts and records for your new place and address. During this timeframe it's a good idea before the move kicks in to have a plan for your meals, double check any medications or prescriptions you'll need and don't forget your pets. Moving day is when everything gets blown up and it's hectic so make sure you have everything covered on your moving checklist and take a deep breath.
Make a "survival closet" moving checklist of things you will need for the final clean-up and include snacks for the last day.
If you decide to pack yourself, label all moving boxes as you pack. Write the destination room on the top and sides of each moving box to ensure it gets to the right place in your new home. If you're pressed for time, or overwhelmed with packing, contact Muscular Moving Men to let us pack for you
Schedule disconnects for utilities such as gas, electric, water and the telephone. If you have a landline, do not disconnect it until after your move. Muscular Moving Men Concierge
Cancel newspapers, Internet, cable TV, security, pest control, cleaning help, lawn maintenance, and any other services you receive.
Be sure you're using your online moving file mentioned at the top to scan in any moving related receipts and expenses. If you're doing this online then make sure you have a dedicated box for all your receipts. You'll want to keep a list of moving-related expenses in case you can claim any as a deduction at tax time.
Recycle or dispose of corrosives, flammables, and poisonous items. Make sure you're disposing of toxic items properly.
Return borrowed items from friends and family.
Update your computer. Download any necessary software updates and ensure that all of your files and photos are backed up to an online cloud storage service or an external hard drive that you'll carry with you.
Set up trash removal and recycling for your new home, and cancel your current service.
Fill any of your prescriptions that you can.
Find somewhere safe for pets to go during your move if needed. The last thing you want is to have your pet wander off at your new location. That just isn't worth it. Look into a day kennel for your furry friend to hang out while there are people and boxes going everywhere at your new place.
Change your address with loan providers, credit cards, banks. Also be sure to alert you credit card provider that you're moving and they'll likely see charges coming in from out of the ordinary locations. You don't want to run up against your card being temporarily locked because of this.
Forward your mail.
Make sure to notify any appropriate government offices and services as appropriate, such as Social Security, Veterans Affairs, and the IRS.
Cancel or transfer any of your local memberships where needed.
Update your address for newspaper and magazine subscriptions.
Transfer your utilities including water, electric, and natural gas.
Make a note to update your driver's license and plates if necessary.
Update your address with Amazon and any monthly subscriptions boxes you receive.
Transfer your prescriptions to a new pharmacy, if necessary.
The Week Of The Move Checklist
Mail in your change of address forms.
Clean the stove and finish up any last minute cleaning before move day.
Finish up packing and be sure all items are boxed and ready to go prior to the movers' arrival.
Drain water hoses associated with any of the appliances.
Empty oil and gas from grills, heaters, lawn mowers, and snow blowers.
Watch the weather channel and prepare any weather along your route.
Pack a survival box with everything you'll need for your first 24 hours of camping out in your new place.
Make a worst-case scenario plan in case your movers run late… like a hotel.
Take photographs of your empty place to prove it's in move-out condition.
Withdraw plenty cash for you and to tip your movers.
The Day Before The Move Checklist
Clean the refrigerator, then defrost and dry.
Get enough cash to tide you over. Cash comes in handy if you need to order pizza during your move, or dinner in your new place!
Say goodbye to your neighbors!
Day Of The Move Checklist
Pack your suitcase and day of the move box with all necessary essentials to get you through the next few days in case you don't get to unpacking right away.
Be sure you're present when the movers arrive so you can walk them through the home and indicate what you need moved or anything in particular they should be aware of.
Once all belongings are loaded onto the moving truck, be sure to do one more walkthrough and lock all windows and outside doors, in addition to checking all lights and your thermostat are off before heading to your new home.
The Don't Pack Move Checklist
Keep these items off the truck and close to you on moving day:
Important documents (e.g., passports, marriage license, birth certificates, any records containing bank account information or Social Security numbers)
Checkbook
Credit Cards
Medications
Phone and charger cables
Laptop and charger
Toilet Paper
Paper Towels
Change of Clothes – for each member
Snacks and Water – plenty of water
Any special blanket or toy used by a little one
Jewelry
Flashlight
Tape Measure
Tools
Trash Bags
Extra Cash
Any other valuables or irreplaceable items.
A moving checklist is an invaluable way to keep organized during a stressful and chaotic time during a move. Whether you're moving out of state or into a new house around the block a well thought out moving checklist that you've printed out will be an invaluable helper during your move.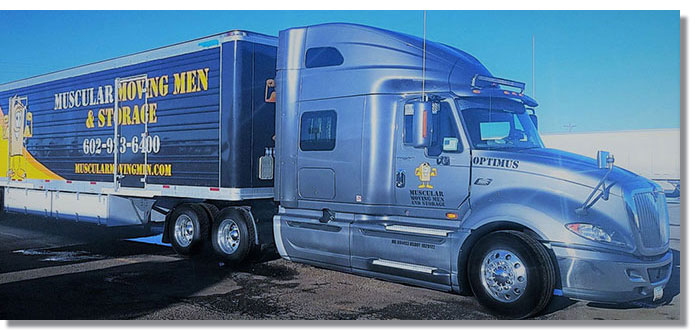 Are You Ready To Move?
Request your local or long distance moving quote today!
Call us at 602-923-6400
---