News
Tips for Moving
in the Summer
.
If the words, moving and summertime, just entered your vocabulary, don't worry, you are not the only one! Statistically half of the moves in the United States take place in the summer between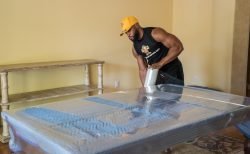 May and Labor Day. Too much surprise, the warmer it becomes, the more we find a need to move. Instead of spending your precious hours packing and moving in the hottest season of the year, call the Muscular Moving Men to get the job done. Enjoy the simple pleasures of life, sleep in, indulge in a good meal, work out, whatever it is, it's summertime and the living is easy.
Below, our team has put together a list of helpful ways to minimize the stress of moving.
Plan ahead! Start thinking 3-4 weeks ahead to schedule your move. At Muscular Moving Men, we have the trucks and guys to move you, but just in case, call as soon as possible to ensure you get the date you need.
Be realistic about packing. Are you ready to move, but not necessarily ready to pack? If you must, we understand. If not, we offer a professional packing service that will pack and protect your items, big and small, to ensure they arrive in the same condition they left in.
Purge any unused items you have been saving. This will not only help eliminate the clutter, it will also absorb some of the packing/moving cost.
Make arrangements for your pets. While our guys love your furry friends, we would not Mr. Fluffy sneaking out during the move. Have a family member or friend take care of your pets for the day.
Two words: Air Conditioning! Ensure the electricity is turned on in your new place so after our guys have moved everything in, you can enjoy the nice cool temperatures inside as you unpack.
At Muscular Moving Men, our mission is to provide, "Outstanding service, competitive rates and muscles for a move made easy!" Let our guys take the heat from your summertime move. Get your free quote today!