News
Why Exactly Are
Commercial Movers Important?
.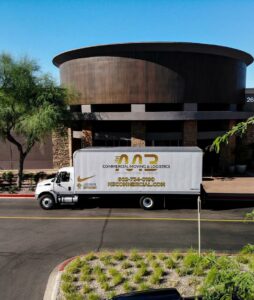 For businesses and companies that are looking to relocate, it's important to use only the most professional of commercial moving companies. Offices and large commercial buildings are commonly home to large and cumbersome furniture such as desks, drawers, seating, and cabinets. With this in mind, a professional team of experienced movers will be able to carefully, safely, and efficiently move these items without hassle.
Commercial Moving Should Be Well Planned
Much like a regular, residential move, commercial moves need to be well planned. Organisation ahead of time can really make or break a move. You, nor your colleagues, will want to be running around like headless chickens looking for important files, days before the big move.
A commercial moving company can assist a business's move in a number of ways. We can:
Provide helpful checklists on what needs to be done and by when
Safely and carefully pack all items, big or small
Dismantle (and then rebuild) any large items of furniture
Transport the items hassle free to the new location
Unpack any items that require it.
These are only some of the reasons as to why you should consider using commercial movers. Up and above, at Muscular Moving Men, we're qualified, trained, and skilled at moving most objects, no matter how big or small.
Communication is Pivotal
In order for a commercial move to run smoothly, communication should be clear and concise from the outset. Ensure your moving company knows exactly what you're looking for. Both parties should provide frequent updates in order for the move to go smoothly and stress-free.
To speak to us about an upcoming commercial move, pick up the phone and contact us at 602-923-6400. From residential moving to commercial moving and everything in between, we're your go-to moving company in Phoenix.