News
Best Phoenix Areas
For Outdoor Enthusiasts
.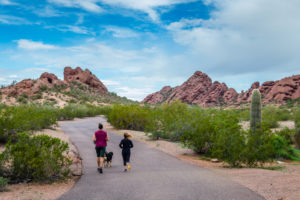 While Phoenix is known for its hot summers, it's also one of the top destinations for new residents who enjoy outdoor activities. In this article, we'll explore some of the best Phoenix, AZ areas for outdoor enthusiasts.
Living in Phoenix has many benefits, but enjoying the great outdoors and beautiful scenery is one of the best perks!
With perpetual sunshine and a vast amount of public lands, it's easy to see why Phoenix is attracting a growing stream of new residents each year. Phoenix is experiencing an urban renewal with outstanding breweries, street art, public transportation, and endless culinary talent.
Newcomers can step into this thriving oasis, garnished with a warm breeze and swaying palms, and indulge in top-notch accommodations, shopping, restaurants, breweries, and entertainment opportunities.
But first, there is plenty of outdoor adventure on tap.
Outdoor Hikes
Start early! Not everyone is a morning person, but if hiking is something you enjoy, an early morning once or twice a week is well worth the early wake-up call. Within the Phoenix metro area, there are a number of great hiking trails.
Some noteworthy hiking areas near Phoenix include:
One of the best ways to find hiking trails in the area is to use the app or website AllTrails. You can sort trails by location, difficulty, and accessibility (dogs, horses, biking, etc.).
As a rule, you should plan to begin your hike at 5:00 a.m. during the summer in Phoenix. This means you're at the trailhead and on the trail at that time, not leaving your house. That way, you can be back in your car and on your way home by 9:00 a.m. at the latest.
Getting an early start is the best way to avoid the dangers of the Arizona summer heat, but you'll also get to enjoy a spectacular sunrise. Keep in mind that this time frame doesn't work for hikes longer than a few hours.
Head for the Hills
East of the city, the Superstition Mountains offer a gorgeous backdrop of jagged volcanic peaks. The Mazatzal Mountains—adjacent to the Superstitions and north of the metro area—reach 7,903 feet in elevation: one of the highest-reaching landmarks near Phoenix.
But, surprising to most visitors, more than half of the state sits at an elevation of 4,000 feet (or more) above sea level. As a result, Coconino National Forest, 100 miles due north of the city, holds the largest family of ponderosa pine trees in the world.
Camelback Mountain is perhaps the most famous landmark in the city. The sandstone and granite ridge resembles a resting camel and invites hikers from all over the world to climb its flanks. To reach the camel's hump, hikers ascend a 2,700-foot face on steep, uneven ground (look for trail markers) that's bordered by jumping cholla and pincushion cacti.
The heart-racing climb is worth the 360-degree views, but be sure to carry plenty of water. Camelback is only a 20-minute drive from downtown, so in the cooler months of winter and spring, the parking lot can fill up. If the entry gate is closed, circle back in 20 minutes.
Culture of the Southwest
Culture of the Southwest
Hohokam translates as those who are gone. The Hohokam people lived in central Arizona 2,000 years ago, and their prehistoric civilization developed the most sophisticated irrigation system in the Southwest: 500 miles of canals irrigated 110,000 acres, which supported crops for up to 80,000 people.
This ancient culture is most known for their phenomenally engineered canals, but the Hohokam also built large earthen platform mounds in the center of their villages, which may have been used for ceremonies or to house upper-class society. Mesa Grande Cultural Park encircles Mesa Grande Ruins, one of only two remaining Hohokam temple mounds in metro Phoenix (the other is the Pueblo Grande Museum). Listed on the National Register of Historic Places, the archaeological site encompasses ball courts and a platform mound that is longer and wider than a football field and 27 feet high.
Desert Botanical Garden
This stunning museum and world-class garden curate more than 50,000 desert plants across its 140-acre property. Today there are 55 acres being actively cultivated, including the care of 379 rare and endangered species. Hop on a trail, stroll through the Sonoran flora, or join one of the daily guided tours. Look for nighttime light shows, concerts, and other special events.
Aravaipa Canyon Wilderness
Aravaipa Canyon Wilderness embodies the wild with thick vegetation and sky-reaching cliffs. There are few designated trails, so travelers need to venture into the canyon with Leave No Trace principles and navigation skills. Hikers can follow Aravaipa Creek on an 11-mile (one-way) out-and-back. The trail pokes through the creek and both banks: wear protective footwear that's suitable for hiking and water.
Mountain Biking
Phoenix is host to an incredible quantity, quality, and variety of fat tire fun. Not only is the city surrounded on all sides by rugged mountains and stunning Sonoran desert, but there are even excellent rides within the city proper.
The southern desert location also allows for a very long riding season — year-round for those willing to brave the heat or at least ride early or late in the day during the blazing summer months. Check out Gold Canyon, Hawes Loop, and Pass Mountain for an excellent adventure.
Paddling
There is no better way to escape the heat than a kayak trip on the Lower Salt River, located in the Tonto National Forest. The cool water is located at the foot of thousand-foot cliffs and offers views of wildlife in their natural habitat — keep an eye out for wild horses, deer, blue heron, osprey, and bald eagles as you paddle the coves and shorelines. Both guided and self-launch trips are available through the Saguaro Lake Ranch website.
Best Time Of Year For Outdoor Activities In Phoenix
Phoenix is spoiled with a never-ending amount of sunshine. In any given year, sunlight reaches the surface for 85 percent of all daylight hours, making it the third sunniest location in the U.S., reports the National Oceanic and Atmospheric Administration. And the humidity is low year-round—so be sure to pack your water bottle and hydrate more than usual. On average, winter months deliver blue skies, highs in the 60s and 70s, and lows that hover in the 40s. Winter nights can be chilly, but it's rare for Phoenix temps to dip below freezing. Springtime sits in the 80s and 90s with cool evenings. Spring also delivers a show of blooming cacti and wildflowers.