News
Best Phoenix AZ
Area Neighborhoods For Foodies
.
The Valley of the Sun is a haven for those who love to eat, drink and be merry, with no shortage of culinary adventures to enjoy. From the innovative to the deliciously simple and everything in between, we're breaking down the top Phoenix area neighborhoods for foodies. Bon Appetit and Buen Provecho!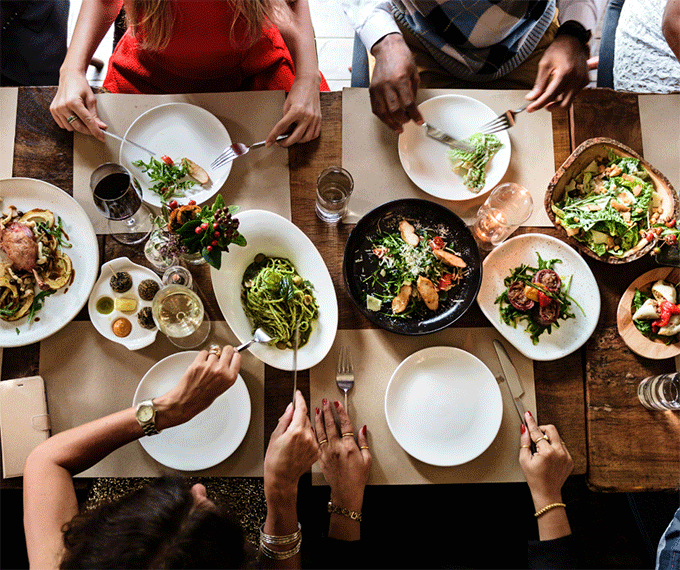 Whether you're a lifelong Phoenix resident looking for the perfect meal or someone who is exploring a move to Arizona, finding the right foodie neighborhood is all about identifying what type of atmosphere you want to dine in.
Fortunately, Phoenix has it all. From lively neighborhoods lined with pizzerias and old-fashioned diners, coffee shops, and breweries to quiet tree-lined streets that hold a fine dining hidden gem.
Phoenix is at the nexus of one of the fastest-growing counties in America. As the city has changed, the restaurant scene has evolved too, driven largely by homegrown restaurants expanding to new locations and treating diners to new concepts.
Phoenix's foodie scene has become an engaging home to a diverse range of cuisines. In the sprawling desert city and its surrounding towns, notable recent openings have landed all over the gastronomic map.
Most notably, Phoenix has seen the rise of Valentine, a restaurant using Arizona ingredients in novel ways, and the reimagining of the Southwest's most acclaimed Italian restaurant, Tratto.
As it continues to grow, morph, and expand, Phoenix constantly surprises diners with new places to eat and drink. Here are the neighborhoods to get excited about as the pandemic, fingers crossed, really starts to wane in 2021.
Arcadia
There is an endless list of reasons foodies should visit Arcadia on their foodie journey.
La Grande Orange Grocery
La Grande Orange — or L.G.O. for those in the know — has been an Arcadia area staple since 2002.
Opened in a neighborhood known for its abundance of orange trees, L.G.O. has become one of the city's most beloved hotspots for — well —a bit of everything.
Guests will find coffee, pizza, breakfast, brunch, sandwiches, dinner, baked goods, cocktails, sushi, beer, wine, cocktails, gelato, lunch, grab-and-go snacks, and, well, you get the idea.
Ingo's Tasty Food
Ingo's Tasty Food is housed in an 800 square foot round building and covers all the tasty bases at its indoor Burger Bar, featuring 100% domestic grass-fed, pasture-raised burgers. With a motto like "Love in Every Dish," you can expect only the best for your tastebuds. The Ingo's team takes pride in baking all of their own breads, fermenting jalapenos on-site for their famous hot sauce, and make all dressings, sauces, and condiments from scratch. Perfect for a quick, delicious lunch with friends or co-workers.
Dolce Vita Italian Grocer
Dolce Vita Italian Grocer is not to be missed. Owner Walter Bergamaschi has a passion for top-of-the-line ingredients and authentic Italian cuisine. They feature a small but beautifully stellar menu filled with northern-Italian specialties like fresh pasta, sandwiches, and anti-pastis.
If you and your guests share a love for imported cheeses, treat yourselves to the piatto formaggi. A plate featuring six selections of the Bergamaschis' top-notch Italian cheeses paired with marmalades and honey from the Italian Alps. This tasting journey comes with instructions: Start with the mildest and work your way around the plate to the center, where the most intensely flavored cheese awaits.
What to Eat in Scottsdale & Old Town
Scottsdale restaurants include everything from hidden gems and popular staples to the perfect brunch, decadent dinners, and local favorites.
Butters Pancakes & Café
Early risers will love making Butters their first stop of the day. Known for their light, fluffy, and perfectly sweet pancakes, they've taken this morning staple to the next level adding options like Berry Bliss, Oreo s'mores, and cinnamon roll pancakes. The bigger-than-life lunch menu is just as inviting, with salads, sandwiches, and the most perfect bacon cheeseburger and crunchy fries you've ever laid eyes on.
Olive & Ivy
Olive & Ivy is keeping things fresh and unique with a Mediterranean menu that will blow your mind. The restaurant sits right next to the river that runs through Old Town and is the perfect spot to enjoy fresh seafood, pasta, and nightly specials. A crowd favorite is the Natural Chicken, chicken thighs that are cooked in citrus jus and placed on a bed of Yukon puree with crimini mushrooms. Top off your meal with a stop at the market for coconut sorbet, and you've got the perfect evening!
Yo Pauly's
Are you craving a slice of New York pizza? Pop in Yo Pauly's for super-thin New York-style pizza in the heart of Arizona. If you're having trouble deciding on a full pie, grab a slice at the register. Not only is the ratio between the cheese, sauce, and crust absolutely perfect (super important to true New Yorkers), but the staff is amazing and fun to be around, making the experience even better.
FnB
If quaint and cozy is your thing, FnB is going to exceed your culinary expectations in every way. With a menu that changes daily based on the availability of locally sourced ingredients, you can bank on enjoying the very best flavor profiles and unique concoctions. Perfect for a night out, with outstanding service and dim lighting.
Restaurants in the Melrose District
Valentine
Phoenix's Melrose District is home to one of the most intriguing spots on our list. Serving rugged-yet-refined food by Chef Donald Hawk, and set in a mid-century vibe combining art, food, and drink, Valentine is by far one of the coolest spots in town. An experimental beverage program features wildly delicious regional ingredients, and the menu will leave you wanting more.
Fry Bread House
Fry Bread House is a family-run restaurant that has been serving traditional Tohono O'odham food since 1992 and offers plain fry bread as well as a number of specialties. Try the pillowy stuff jammed with ground beef, beans, and cheese, or alongside stews or beneath sweet chocolate. Other menu items include tacos, burros, and chippies and salsa.
Pop Stand
When checking in (or just checking out) the boutique hotel Arrive, you may be in for a literal treat. The front desk is a handcrafted frozen-pop shop called Pop Stand that offers regular and even booze-infused paletas, including strawberries con crema, chile mango, pink lemonade, and frozen margarita.
Restaurant Progress
Owner TJ Culp is taking classic American fare to the next level with Restaurant Progress. This 37-seat dinner spot is hard to pass if you're anywhere near the corner of Seventh and Montecito Avenues and hungry. The smell and the light chatter, clinking of dishes and silverware, and twinkling décor will definitely draw you in, and the five-course tasting menu, wine, and craft cocktails will keep you coming back.
Phoenix is A Foodie Haven
When it comes to the best neighborhoods for foodies in Phoenix, it's tough to narrow it down. The Valley of the Sun truly is a haven for those who love to eat, drink and be merry, with no shortage of culinary adventures to enjoy. From the innovative to the deliciously simple and everything in between, the Phoenix metro area has it all.