News
Moving to Phoenix?
5 Historic Neighborhoods to Explore
.
In a place that celebrated its statehood centennial in 2012, the last thing that may come to mind when you think of Phoenix, Arizona is a historic district. But the city has been thriving for much longer than 119 years. Today we're exploring some of Phoenix's top historic neighborhoods, and what makes each of them unique.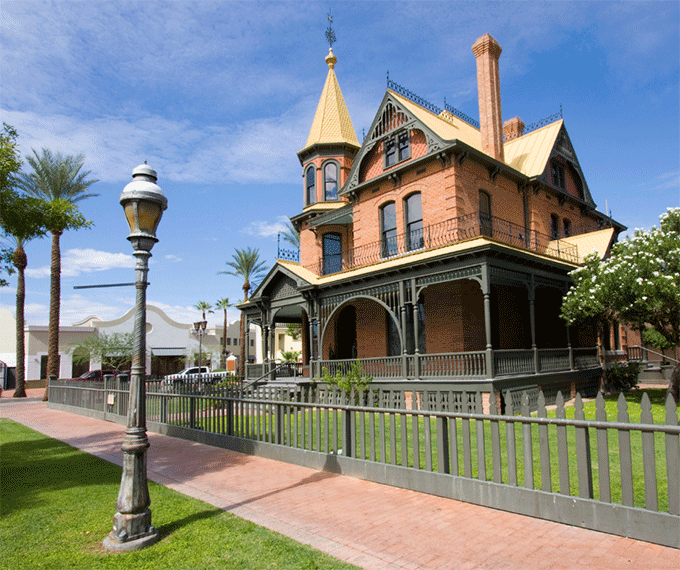 When you think of Phoenix, Arizona, what are the first things that come to mind? It's probably not a historic neighborhood. After all, Phoenix was only incorporated in 1881, and Arizona didn't even become the 48th state until 1912!
That's not all that long ago in the grand scheme of things. At least not compared to many destinations in the United States.
Sure, Phoenix has a rich history that spans millennia, starting with nomadic paleo-Indians and bringing us all the way to a booming city full of modern-day paleo-diet-eating city slickers. But that's not what we usually think of when we're talking about historic neighborhoods.
Believe it or not, despite its relative youth, Phoenix is home to many charming historic districts that now find themselves highly sought-after by families relocating to the Valley of the Sun. Today we're taking a tour through some of the hottest (literally and figuratively) historic districts in Phoenix and exploring what makes each of them so unique.
Los Olivos (Alvarado)
The Alvarado Historic District, also known as Los Olivos thanks to the olive and palm tree-lined streets, sits just off Central Avenue at Alvarado and Monte Vista road.
This prime location means that the Alvarado district is within walking distance to the uptown Phoenix business district and attractions, as well as the light rail.
If you move to the Alvarado district, you'll also count the Heard Museum and the private University Club of Phoenix among your prestigious neighbors.
It's one of the smallest historic districts, with only 33 homes, and it is the homes that are one of the most notable features of this particular area.
The Alvarado neighborhood was built for the elite—well-known architects primarily designed its estate-sized homes. Most homes were built between 1924-1932 and were custom-designed to suit the original owner.  You'll find a mix of Spanish Colonial Revivals, Bungalows, Georgian, Tudor, and other architectural styles in this prestigious urban area. You'll also find price ranges to match the large lots and custom estates.
Coronado District
The Coronado district is one of Phoenix's trendiest historic districts and much-loved by young professionals and their families. In this neighborhood bordered by 8th and 14th street and Virginia Avenue and Coronado Road, you'll find a mix of Tudor, Craftsman Bungalows, and 1940's Ranch houses. The Coronado district is highly walkable. It lies a short distance from plenty of restaurants, wine bars, coffee shops, cafes, salons, and other attractions. Residents will also be conveniently located close to Coronado Park, one of Phoenix's largest city parks.
Roosevelt Row
The Roosevelt Historic District, known for its mixed-use area called Roosevelt Row, is home to galleries, restaurants, coffee shops, and streets lined with bungalows in various renovation stages.
Located between Portland and Fillmore streets and Central Ave. and 7th Avenue, the Roosevelt neighborhood was a hub for early development in Phoenix between the years 1893 to 1930. It was the neighborhood of choice for many prominent figures in the city's history, from wealthy businesspeople to cattle ranchers and real estate speculators.
From the 1970s to the late 1990s, however, the Roosevelt district experienced a period of decline. Buildings became dilapidated, and crime rates rose.
But as property values declined, artists began to make a home for their studios in the boarded-up buildings. As the arts breathed new life into the area, residents began to move back. Now, artsy bungalows and whimsical landscaping, and yard art abound. These days, the Roosevelt district is one of Phoenix's most beloved historic districts and a favorite of young families wanting to be close to the hubbub of downtown and Roosevelt Row.
The Willo District
The Willo district is perhaps one of Phoenix's best-known and most in-demand historic districts. Located just north of downtown Phoenix between Thomas and McDowell Rd. and Central and 7th Avenue, the Willo district is highly walkable.
Residents will find attractions like the Arizona Science Center, the Heard Museum, the Phoenix Art Museum, and much more a short bike or light rail ride away. In fact, residents of the Willo district have access to three different light rail stops.
The homes that line the Willo district's palm tree-lined streets are well known for being immaculately manicured and feature mature shade trees and landscaping. It's a peaceful, family-friendly neighborhood, and you'll often find neighbors mingling, walking dogs, and pushing strollers.
Architecture in the Willo district is highly varied and features Tudors, bungalows, Dutch and Spanish colonials, and even Pueblo and Greek revivals. The Willo district is a popular destination for daydreamers, and visitors can often be found admiring the unique and beautifully maintained homes on the weekends. The district even offers an annual home tour that is one of the best attended in the city.
Phoenix Homesteads
There's something different about Phoenix homesteads. One of the first things you'll notice when exploring this east valley oasis is all the green.
Green trees, green shrubs, and even green lawns – a rarity in our desert valley.
Beyond the mature shade trees of Phoenix Homesteads, you'll find homes constructed with indigenous materials like adobe. This historic district is, in fact, the only adobe neighborhood in Phoenix.
Most homes are adobe Pueblo revival style and sit on lots ranging from one-third to three-quarters of an acre.  The area got its start following the Great Depression as part of the Subsistence Homestead Program, a back-to-the-farm movement established in 1933. Families who relocated to the Phoenix Homesteads worked full time while reducing the cost of living by producing their own food and supplementing their income through their gardens, orchards, chickens, and a cow.
While you won't find any cows in the Phoenix Homesteads historic district these days, the gardens and orchards remain – as do the original Washington palms and Aleppo pines that line the streets. Currently, 45 of the original 60 adobe homes remain, and residents enjoy a country-style life in the heart of the city.
While not as walkable as other historic districts, Phoenix Homestead residents are located close to the Arcadia and Biltmore areas, making some of Phoenix's food hotspots like La Grande Orange (colloquially called LGO for those in the know) within just a few blocks. Phoenix Homesteads historic district is also located close to Gaslight Square, a one-of-a-kind strip mall (yes, there is such a thing) with its own unique history.
Phoenix is Full of Historic Neighborhoods
While Phoenix may have just celebrated its statehood centennial in 2012, the city has been thriving in the heat of the desert for much longer. Its rich history is reflected in its many historic districts, all featuring their own unique character, architectural style, and allure. As people from across the country move to Phoenix in droves to escape the high cost of living elsewhere, these historic neighborhoods will undoubtedly enjoy further revitalization, additional preservation of historic buildings, and some of the most sought-after real estate the city has to offer.