News
May Is National
Moving Month
.
April showers may bring May flowers, but it also happens to bring the busiest moving season of the year. That's right; the month of May is National Moving Month. To celebrate, we're giving you our top tips for an organized move during the busy season, and connecting you with the resources you need for a stress-free move. Happy National Moving Month!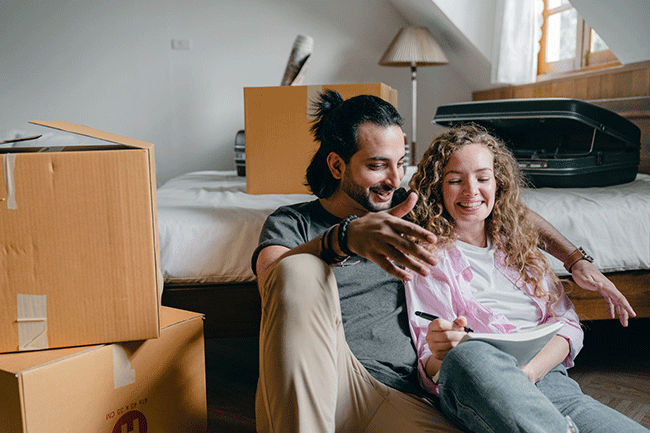 Many Americans are packing up and getting ready to move both locally and cross-country around this time of year. While moving can be an exciting process, it can also be one of the most stressful life events for many.
Shop For A Professional Mover Now (sooner than you think you need to)
With this being such a busy time of year for movers, getting your ducks in a row in advance can save you a lot of stress. Arranging quotes and finding the right Phoenix moving company to work with sooner rather than later can ensure that you snag the dates you need for a smooth move.
Organization Is The Key To A Stress-Free Move
We've all been there. It's time to load up your boxes, and even though you could have sworn you packed everything, more and more stuff just seems to be creeping out of the woodwork. Soon, you end up with a stack of unlabeled boxes full of an accouterment of knick-knacks that never seem to find a home once you reach your destination.
While your packing process doesn't necessarily have to adhere to the Marie Kondo method, having a plan for tackling those boxes is key to avoiding unnecessary stress during your move. Whether you're moving across the country or right down the road, consider some of the benefits of using a professional packer to lighten the load.
Prep Your Pets For The Move
Moving isn't only stressful for the humans in your household. Your pets can feel it as well. This is especially true come moving day when strangers may be traipsing through your house and removing your pooch's favorite chair. Begin preparing your pets for the move by following a few simple tips to keep them stress-free too.
Find a pet-sitter for moving day.
Explore your new neighborhood with your pet if you can.
Discuss possible anti-anxiety measures with your vet.
Consider new behaviors that your pet will need to adopt after the move, and begin training them.
Long-Distance Move? Consider Your Car
Does the prospect of a cross-country drive with your pets and kids sound daunting to you? Who could blame you? Fortunately, shipping your car long distances doesn't have to be complicated or costly.
When you consider the real cost of a long-distance drive, factoring in gas, food, lodging, wear and tear on your vehicle, and other factors, shipping your car may actually be a less expensive option for your long-distance move than driving. Not to mention the fact that a short flight is almost always less stressful. Wondering how to go about finding a reputable auto shipper? Here's our breakdown of how to ship a car to another state.
A National Moving Month Gift For You
With so many people preparing to move right now – especially in the Phoenix metro area – it's time to get prepared and give yourself plenty of time to find a moving company, pack your home, prepare your pets, and cross the many t's and dot the many i's that come with moving.
Need a little extra organizational help? Check out our pre-move checklist. It will walk you through everything you need to do from six to eight weeks pre-move, right down to moving day. It's our National Moving Month gift to you!