News
Moving To Phoenix?
A Few Insider's Tips.
.
There is so much more to moving to Phoenix, Arizona than scorching heat, giant saguaro cactus, and desert landscapes. Read on to get an insider's perspective on why this Southwestern U.S. city is one of the top destinations for transplants of all ages, from far and wide.
If those images come to mind, you wouldn't be alone. And you wouldn't be wrong. But bear with us. Phoenix is so much more than that, and it's quickly becoming one of the most popular destinations for transplants from far and wide. In fact, Phoenix was on of the topped ranked metros on the list of top migration destinations in a 2020.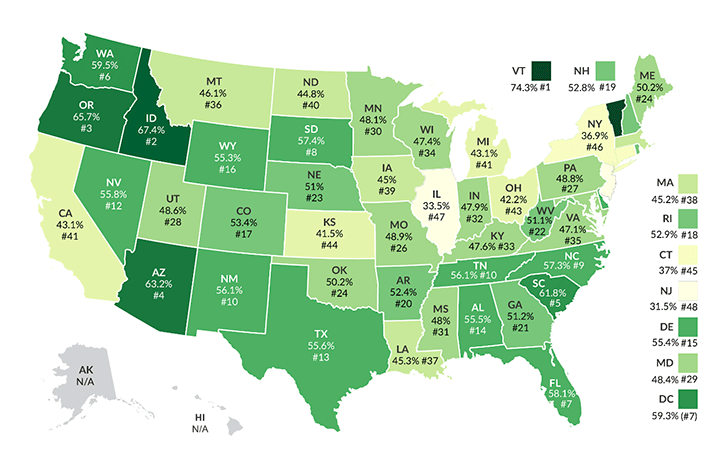 If you've considered moving to Phoenix and the aptly named Valley of the Sun, stick around. We've helped hundreds of people relocate to this Arizona hot spot (see what we did there?).
Today we're giving you the insider's perspective on the things you should know before moving to Phoenix.
Weather in Phoenix – Can You Stand the Heat?
Ask anyone who has been to Phoenix about the notoriously hot summers, and you'll probably hear these five words:
"But it's a dry heat."
It's true; the heat in Phoenix really is a dry heat. But dry or not, it can still run anywhere from 110-120 degrees on any given summer day. If you're wondering what that feels like, just stand in front of a hot convection oven when you open the door.
That whoosh of hot air? That's what it feels like to open your front door during summer in Phoenix.
But the good news is that Phoenix is built with the heat in mind.
Walk anywhere in Old Town Scottsdale, for example, and you'll be cooled by a super fine spray of water from restaurant misting systems and high-powered fans. Indoor activities also abound. Most grocery stores and other highly-frequented destinations have either covered parking or strategically placed trees throughout the parking lot. The day you find yourself walking from the end of the lot farthest from the grocery store's entrance just so you can park under that coveted bit of shade, you'll know you're a true Phoenecian. Just remember to keep gloves (or potholders) in your car at all times. Hot steering wheels are a major summer hazard.
Still not sure about those triple digits? Check out these tips for surviving the AZ summer heat.
Monsoons, Flash Floods, and Haboobs… What!
It might seem counterintuitive, but it does, in fact, rain in the desert.
And when it rains, it rains a lot.
The monsoon is a period of time between June and September, during which sudden heavy rainfall and wild lightning storms seem to pop up out of nowhere. They can also be coupled with strong winds and those massive dust walls called Haboobs that roll up from the south.
During the monsoon and any of its accompanying weather-related phenomena, it's wise to stay indoors and enjoy the show. Flash floods are frequent. Within a matter of minutes, any of the city's dry washes can suddenly turn into a raging river. If you do happen to be caught on the road during a monsoon storm or haboob, never attempt to cross flooded areas. If visibility becomes limited, pull over with your vehicle's lights off to prevent any vehicles that may have been following your car's tail lights from following you off the road.
The Rest Of The Year Is Near Perfection
If you've read this far, you may be feeling less than optimistic about the weather in Phoenix. But fear not. Besides the three to four months of summer heat, the rest of the year is simply perfection.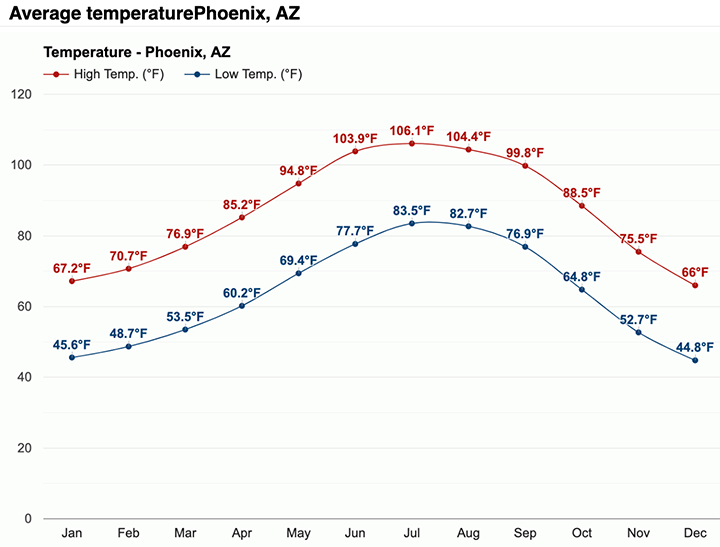 Phoenix's low humidity means that even temperatures as high as 95-100 can feel quite comfortable. In fact, temperatures below 70 may even feel downright chilly, so be sure not to throw away your winter clothes.
The Phoenix Metro Area Is A Top Destination For Families Nationwide
Did you know that four Phoenix Metro suburbs were ranked on the list of the best places to raise a family in the United States? It's no surprise to those of us who live here. Those suburbs included Gilbert, Chandler, Scottsdale, and Peoria.
Let's take a look at a few of the current hotspots for families in and around Phoenix.
Top Phoenix Neighborhoods For Families
Chandler
The Chandler Unified School District has been recognized as one of the top school districts in the Valley and one of the best in the state. While technically its own city, Chandler is home to many young families who also work in Phoenix proper. There is no shortage of activities and attractions for kids and adults alike, from golf courses and casinos to breweries, parks, and shopping.
North 32nd
Located around the intersection of 32nd Street and Shea Rd., this rapidly developing area has become a favorite of families with young kids. In fact, it's arguably one of the top trick-or-treating destinations in the city. Most homes in the area were built in the '70s. Still, the area is undergoing a revitalization, with many of the spacious single-level homes in the area being renovated in a trendy, mid century style.
One of the most attractive features of the homes in this area is their sprawling yards – many over a quarter of an acre. Because of its proximity to Shea Rd, the area is sometimes called the "Sheaborhood". You'll find hiking and biking trails laced throughout, at least five parks within two square miles, easy access to Highway 51, and major shopping destinations like Costco, Trader Joe's, Target, and many others just down the street.
More Than Snowbirds… Seniors Love Phoenix Year-Round
Moving to Phoenix is popular amongst retirees and seniors year-round thanks to its much lower cost of living compared to other major metropolitan areas. On top of the lower cost of living, Arizona is one of a handful of states that does not tax social security or pension income.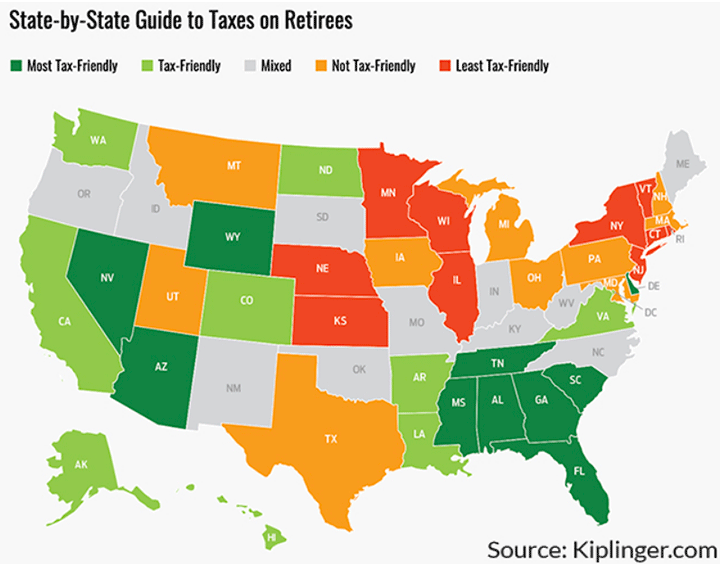 Top Phoenix Area Neighborhoods for Seniors:
Sun City and Sun City West
With housing for all budgets, over 130 chartered clubs, eight golf courses within six square miles, and a near endless list of recreation, fitness, and social activities, Sun City and the neighboring Sun City West is a 55+ community built for active, retired adults.
Carefree
Sitting at an elevation of about 2,400 ft., Carefree, AZ can be up to 5 to 7 degrees cooler than the Phoenix Metro Area's neighboring towns. This is just one of the many reasons retirees and snowbirds alike have been drawn to this rural, suburban community with serious Sonoran desert vibes. For retirees looking for natural beauty, stunning sunsets, and a healthy dose of peace and tranquility, Carefree, AZ, is the perfect retirement destination.
Millennial Professionals are Flocking to Phoenix
Young professionals are one of the fastest-growing demographics moving to Phoenix, thanks in part to the boom in tech companies setting up shop in the Valley of the Sun. Many are heading east from California to escape the notoriously high cost-of-living.  Here are a few of the best neighborhoods for young professionals relocating to Phoenix, AZ.
Top Phoenix Neighborhoods for Millennial Professionals:
Camelback East
According to Niche.com, the Camelback East neighborhood currently holds the top ranking for neighborhoods for young pros in Phoenix. Residents enjoy a blend of urban and suburban-style neighborhoods, with easy access to restaurants, coffee shops, bars, entertainment, and the city's main highways.
Arcadia/Biltmore
One of Phoenix's trendiest neighborhoods at the moment, the Arcadia/Biltmore area, is situated south of Camelback Road and North of Indian School Road. Convenient to Scottsdale, the upscale Paradise Valley area, and Uptown Phoenix, this in-demand area is also a great area for young families.
Roosevelt Row Arts District
If artsy, up-and-coming neighborhoods full of historic, ready-to-renovate bungalows are your thing, you'll love Roosevelt Row. Located within walking or biking distance to downtown Phoenix and the light rail, Roosevelt Row is home to galleries, pubs, restaurants, music venues, nightclubs, outdoor activities, and so much more.
Phoenix is the Ideal Home Base for Daytrippers
Perhaps one of the most attractive things about living in Phoenix is how easy it is to get out of the city and explore something new. With Phoenix Sky Harbor – known as "America's Friendliest Airport" located smack dab in the middle of the city, it's easy to hop on a plane and get out of town.
But the region offers plenty of opportunities for incredible day trips as well. Here are a few of our favorites.
The Grand Canyon
This natural wonder is located only four short hours from Phoenix proper. As one of the most recognizable landscapes in the world, there's no reason not to visit.
Flagstaff
This college town up north is only two hours from Phoenix and is a frequent destination for Phoenicians looking to escape the heat. After all, it's usually about 20 degrees cooler than the Valley! You can even head up to Snowbowl, located just outside of Flagstaff, in the winter months for some fantastic skiing and snowboarding.
Sedona
Known for its impressive red rock formations, Sedona is home to luxury resorts, spas, incredible food, and shopping, as well as plenty of opportunities to reconnect with nature. Need some positive energy in your life? Hit the trails and track down one of the many energy vortices rumored to be nestled within the rocks.
Puerto Penasco (Rocky Point)
Did you know that the closest beach to Phoenix is actually located in Mexico? Situated on the Gulf of California – also called the Sea of Cortez – Rocky Point boasts miles of beautiful beaches and an abundance of outdoor activities and water-sports in a tourist-friendly environment. Plus, it's all just a few short hours from Phoenix.
Despite The Heat, Phoenix Is An Outdoor Activity Paradise
With eight to nine months of fantastic weather, it's no wonder Phoenix is known as a hub for the outdoor-oriented. Here are just a few of the must-try outdoor activities offered in the Valley.
Hiking
From the iconic Camelback Mountain to South Mountain, McDowell Mountain Preserve, and everything in between, hiking and mountain biking is a way of life in Phoenix. In fact, Phoenix boasts over 41,000 acres of mountain and desert parks and over 200 miles of trails.
Horseback Riding
It wouldn't be the wild west without horses, would it? Scottsdale is home to one of the largest Arabian horse shows globally, held annually at its massive WestWorld complex. But beyond the prestigious competitions at the Equidome, you'll find plenty of opportunities to hit the trails at South Mountain or take riding lessons at everything from hunter-jumper show stables to western pleasure barns.
Lake Life
Lake Pleasant, located just forty miles north of central Phoenix, is home to over 10,000 acres of blue-green water. Enjoy cocktails or a meal from one of two marinas – Scorpion Bay and Pleasant Harbor. When the weather gets hot, rent a boat, jet skis, kayaks, or even strap on a jetpack and give hydroflight a try.
Phoenix Means More Than Just Phoenix
There's more about moving to Phoenix than, well, Phoenix. The Phoenix Metro Area comprises several neighboring cities and towns, all within easy driving distance. Each has its own personality.
Tempe
Home to Arizona State University, Tempe is a tech-forward, bustling college town full of great food, nightlife, and endless activities along Tempe Town Lake.
Scottsdale
Famous for its luxurious resorts, golf courses, and high-end shopping, Scottsdale is home to a myriad of places to see and things to do. Don't miss historic Old Town Scottsdale and Scottsdale Fashion Square – the Southwest's largest retail destination.
Cave Creek
Looking for a taste of the wild west? Cave Creek is the place to be. Even beyond their annual Wild West Days held in November, you'll find one of the most authentic western towns around, complete with hitching posts at bars and restaurants – with actual horses attached thanks to the many local residents who prefer to ride into town. Other parts of the Phoenix Metro Area include Mesa, Glendale, Peoria, Gilbert, Chandler, Surprise, Fountain Hills, Ahwatukee, and others. All offer something unique, and are worth exploring.
What Brings You to Phoenix?
There are hundreds of newcomers moving to the Phoenix area everyday. With such a large migration, the face of Phoenix is sure to evolve. Still, even though home prices are rapidly rising and current inventory is relatively low, Phoenix still remains an affordable, fun, and unique place to live.