Your Local Flagstaff Moving Company
When moving to or from Flagstaff, there are key things to take into consideration. They can be anything from the traffic flow of the neighborhood you're moving into to the possible rise in taxes. Whatever the concern, make sure you have a qualified team backing you up during the process. Muscular Moving Men excels as Flagstaff movers for your residential or business move. Day in and day out, we please our moving customers all around the Phoenix area.
What should a Flagstaff Moving Company Offer?
Let's face it, most people can lift a side table and carry it from one room to another. However, there are a lot of things in the moving process that most Average Joes can't do, and that's where we come in. We can provide you with all the necessary details – even the ones you haven't thought about – with your Flagstaff move.
We provide a knowledge base that is unmatched, and we often express the need for a moving checklist. This includes:
Accurate Moving Estimate – Upfront, getting a quote for your move is crucial. You don't want to be halfway through the moving process when you start to questions how much this will cost. Trust our Certified Estimators to accurately determine moving costs.
Packing Supplies for Sale – Have you purchased moving supplies yet? We sell the materials you will need to get your home ready to move and we even deliver for free on orders over $100.
Movers you can trust – Our professionally trained staff is the most customer service friendly in the business and they are trained to the highest industry standard as Certified Packers and Loaders.

Licensed And Bonded Moving Company

Certified Move Consultants For In-Home Estimates And Service Recommendations

Professionally Trained Staff

Muscular Moving Men Mover Athletes are:

Full-Time Employees – Never Day Labor

Drug Tested

Background Checked

Smoke Free

Trained In-House

Friendly and Courteous

Latest Up-To-Date Moving Equipment

24-Hour Telephone Support

Detailed Inventories Provided For Each Move

Full-Service Packing

Crating For High Value Items

We Label The Boxes For You

Floor & Furniture Protection

Floor Runners

Adhesive Plastic To Protect Carpets And Foyers

Blanket And Plastic Stretch Wrapping Of All Furniture

Unpacking & Debris Removal

Short- & Long-Term Storage Options With Temperature & Humidity Control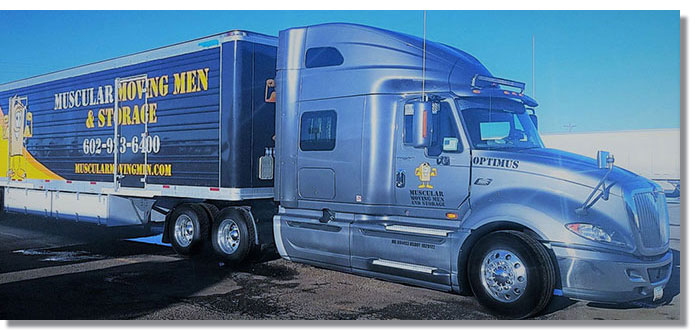 Are You Ready To Move?
Request your local or long distance moving quote today!
Call us at 602-923-6400
Our Moving Services At A Glance
Getting To Know Flagstaff
Located in the high country mountains of northern Arizona, the first permanent settlement was in 1876, when Thomas F. McMillan built a cabin at the base of Mars Hill on the west side of town. During the 1880s, Flagstaff began to grow, opening its first post office and attracting the railroad industry.
The early economy was based on sheep, timber and cattle. By 1886, Flagstaff was the largest city on the railroad line between Albuquerque and the west coast of the United States. Back in 1900, journalists described the town as a third rate mining camp.
Today, however, Flagstaff is a four season go to area for activity that embodies an eclectic mix of small town charm with an endless array of outdoor adventures waiting for you in the cool clean mountain air. Name just about any outdoor activity you can think of and Flagstaff is there to accommodate. There's no doubt that after your Flagstaff move, it won't take long to get that go exploring itch. In fact, Flagstaff will become your basecamp for you to explore and take in some of the most beautiful scenery in world since you only be a stone's throw (about 80 miles) from the Grand Canyon and within driving distance of seven national parks.
If you fancy yourself a bit of a history buff then moving to Flagstaff will certainly not disappoint. From getting your kicks on Route 66 to the Native American and old west legacy there are plenty of sites and places to check out. Once you get unpacked from your Flagstaff move, head over to the historic downtown area. It is chock full of local shops, restaurants, galleries that are a great way to spend the day strolling about. When night falls, the town's commitment to stargazing by committing to light restrictions makes it the ideal destination to explore the night skies.
No matter what the season… and there are four of them… with different adventures just around every corner, Flagstaff will keep you active and on the go.
Flagstaff By The Numbers
Flagstaff cost of living is approximately 1.17 which is a bit higher national average.
Population – 69,903 up 9.4% since 2010
Unemployment Rate – 3.9%
Median Income – $48,120
Median Home Price – $383,600
Median Age – 25.1
Checklist or No Checklist, Choose the Right Flagstaff Movers
Regardless of whether you are an extreme planner or like to keep it more exciting and unplanned, make sure you have the right movers for the job. With Muscular Moving Men, we make sure you think of everything. Only the right movers, with years of skill and expertise, can provide that to customers every single day.
Phoenix Service Areas
---